ISTANBUL, Turkey (CNN) -- President Obama promised Turkish students Tuesday that they would find a partner and a friend in the United States.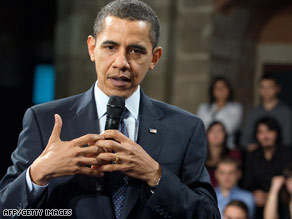 President Obama spoke with students at a town hall meeting in Istanbul, Turkey, on Tuesday.
"I know that the stereotypes of the United States are out there, and I know that many of them are informed not by direct exchange or dialogue but by television shows and movies and misinformation," he told students in a town hall meeting before leaving for Iraq.
"Sometimes it suggests that America has become selfish and crass and that we don't care about the world beyond us. I'm here to tell you that's not the country that I know, and it's not the country that country I love."
The students sat in a circle around the president, who stood before them in a dark suit, occasionally pacing.
Obama acknowledged "difficulties" between the United States and Turkey, a NATO ally, in recent years.
"We've had some specific differences over policy; we've also at times lost the sense that both of our countries are in this together," he said, adding that he had come to Turkey to bolster the relationship between the countries.
Turkey was Obama's last scheduled stop on his first overseas trip as president. He arrived in Europe last week for a series of summits, meeting first with world leaders at the G-20 summit in London, England, to discuss the global financial crisis.
The students at the town hall asked questions on a range of topics, from the Kyoto Protocol to Turkey's European Union bid. Some of the questions were asked in English; others asked in Turkish were translated through a device Obama held.
"My Turkish is not so good," Obama said with a smile ahead of the questions. He said he would try to end the town hall meeting before the call to prayer.
One student asked whether there is a real difference between Obama and his predecessor President Bush.
"I think this will be tested in time," Obama said. "Moving the ship of state is a slow process," he added, citing U.S. strategies for the war in Iraq and environmental policies as areas he said he would differ from Bush.
When discussing Iraq, Obama said he was mindful of changing course too quickly.

"I opposed the war in Iraq. I thought it was a bad idea," he said. "Now that we're there, I have a responsibility to make sure that as we bring troops out that we do so in a careful enough way that you don't see a complete collapse into violence."
Obama had held a larger town hall in Strasbourg, France, last week.
E-mail to a friend

All About Barack Obama • Turkey • NATO