From Ed Henry
CNN Senior White House Correspondent





ISTANBUL, Turkey (CNN) -- Turkish authorities have released a Syrian man who was arrested last week in connection with an alleged plan to kill President Obama, a senior U.S. official said.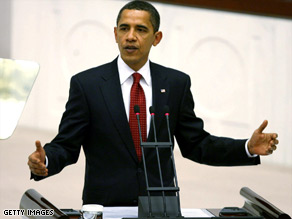 President Obama addresses the Turkish parliament on Monday.
The official said that although U.S. authorities take all threats seriously, they do not believe that the president's life was ever in serious danger.
Details concerning the man's release were not immediately available.
The alleged plot was first reported by the Saudi Arabian newspaper al-Watan, which revealed that Turkish security services arrested a man of Syrian origins Friday in connection with a plan to kill Obama during his visit to Turkey.
Obama was in Strasbourg, France, on Friday for a NATO Summit and did not arrive in Turkey for the final leg of his trip until Sunday.
The Saudi paper reported that the suspect carried an Al-Jazeera TV press credential, but Al-Jazeera officials said the man was carrying a forged Al-Jazeera pass and was not affiliated with Al-Jazeera in any way.
The Saudi newspaper report also alleged that the suspect confessed to authorities that he and three accomplices plotted to stab Obama during the Alliance of Civilizations Summit in Istanbul, which Obama attended Monday evening.
The U.S. officials confirmed those allegations but stressed that the information provided by the man has not been verified.
On Sunday, U.S. and international journalists covering Obama's trip faced more extensive searches of their baggage than usual by the U.S. Secret Service before boarding a press charter flight from the Prague, Czech Republic, region to Ankara, Turkey. The same extensive searches were conducted Monday before a flight from Ankara to Istanbul.
But U.S. officials downplayed the possibility that the more extensive searches were done out of a concern that plotters may have infiltrated the media. Instead the officials suggested that since Turkish security officials had not necessarily handled such a large crush of media before, Secret Service officials simply wanted to go the extra mile in their searches.
E-mail to a friend

All About Barack Obama • Turkey • Istanbul