By Terry Frieden
CNN Justice Producer





WASHINGTON (CNN) -- Attorney General Eric Holder, faced with bipartisan resistance, promised a Senate committee Thursday he will not release suspected terrorists held at Guantanamo Bay, Cuba, into the United States.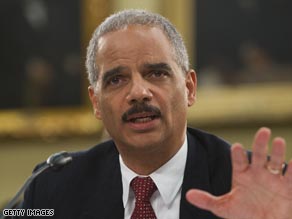 Attorney General Eric Holder says he has not decided where or when Guantanamo detaines will be moved.
He was less clear about what would be done with any detainees the administration decides are not terrorists.
Holder faced tough questioning from fellow Democrat Barbara Mikulski of Maryland, who demanded "consultation" with lawmakers and governors before a decision is made, and insisted on "no surprises."
Holder promised he wants "to make sure, as you say, surprises do not occur."
"We would not bring them into this country and release them, anyone, we would consider to be a terrorist," Holder told the panel. He said the safety of the American public will be his "paramount concern."
Republican House members are calling for the administration to halt plans to move "violent terrorists" from the detention center on the U.S. naval base at Guantanamo Bay.
Don't Miss
"This presents a clear and present danger to American lives," said Rep. Lamar Smith, R-Texas. "All the administration has to do is reconsider -- they don't have to keep this misguided campaign promise."
While virtually all the critics of President Obama's pledge to close the facility by January oppose setting any detainees free in the United States, others also oppose moving them to U.S. prisons or sending them to other countries.
Holder emphasized he has made no decisions about whether or when any of the 241 remaining Guantanamo detainees may be moved.
He told the panel he expects some of the detainees who the administration determines are not terrorists to be released, but did not say when or where.
"I would expect in the next few months, though, that we would probably start that process," he said.
Sen. Richard Shelby, R-Alabama asked, "You're aware that some of the terrorists released to other countries have rejoined the fight against us?"
"I know it's not an insignificant number," Holder acknowledged.
At least a few of the Muslims from southwestern China known as Uyghurs, who seek independence from China, could be among the first detainees released from Guantanamo if the government can find a home for them inside or outside the United States.
In October, a federal judge ordered the 17 Uighurs released inside the United States because they are no longer considered "enemy combatants," and no other country is willing to take them. But an appeals court reversed the order. The Uighurs then turned to the U.S. Supreme Court, which has not decided whether to take the case.
Lawmakers this week stripped from a supplemental funding bill $30 million the administration wants to help fund closing the Guantanamo prison. At the hearing Thursday, Holder said the money is needed for special equipment and facilities for the highly classified task force work necessary to enable the detention facility to be closed.
E-mail to a friend

All About Eric Holder • Guantanamo Bay