By Kate Bolduan and Ed Hornick
CNN






WASHINGTON (CNN) -- At the young age of 27, Rep. Aaron Schock looks more like a congressional aide than a congressman.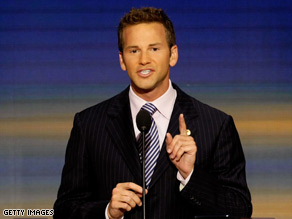 At 27, Rep. Aaron Schock is the youngest member of Congress.
Working with colleagues decades his senior, Schock is grabbing attention and headlines for politics and much more.
"I like to stay busy," he said. "I'm having a lot of fun. It's a lot of work."
It's a lot of work indeed for the Republican from Peoria, Illinois, who also happens to be the youngest member of Congress and the first born in the 1980s.
At just 19, he won as a write-in candidate for the local school board. Schock then served four years in the Illinois state house before receiving a speaking role at the 2008 Republican National Convention -- and ultimately winning the seat in Illinois' 18th Congressional District in November.
In a few weeks, Schock will turn 28. How will he celebrate? Like any good politician: hold a fundraiser.
Partygoers are asked to contribute $500, $1,000 -- or even just $1 for every year of his or her life. All money raised, according to a spokesman, will go for Schock's re-election campaign.
When asked whether questions about his youth are a hindrance or a boon, Schock says the age factor could change the way people view Congress.
"The average age of a member of Congress this year is 57, the oldest in our country's history. And I would suggest that our government would look a lot different if there were more members of Congress that were in their 20's."

Watch more of Schock's interview »
Schock's focus is squarely on the Republican agenda: cutting taxes, slashing the deficit and pushing through credit card reform. He has also taken a traditionally conservative stance of opposing abortion and same-sex marriage.
But he might be getting more attention for his looks than his politics.
The Los Angeles Times has called him a "Republican dream date."
Sen. John McCain's daughter Meghan likened the young congressman to the GOP's Mr. Right.
Writing on her blog for The Daily Beast, McCain said, "If nothing else, in an Obama-crazed land, he is getting people's attention and putting another fresh face at the center of what it is too often perceived as an old-news, boring party."
And he's also the rare member of Congress chased by celebrity Web site TMZ.com, which published pictures of Schock in just a red bathing suit showing off his now-famous abs.
TMZ is owned by Time Warner, which is also the parent company of CNN.
And he even received a grilling on Comedy Central's "Colbert Report" about those abs. When asked whether he had a six-pack, Schock simply said, "yes."
Schock blames that one on President Obama.
"I also have him to blame for the whole abs, issue because he was the one caught on the beach in Hawaii without his shirt on, and that's what led TMZ to follow me around," Schock said.
So what's next for a young congressman who has come this far, this fast?
"I'm enjoying the role now, but I don't know if I want to do this forever," Schock said. "I look around the Congress right now as a new member and see people who have served for 20 and 30 years, and I'm not sure I want that to be me."

"So I take one day at a time, one election at a time, and ultimately the decision is on the voters."
Schock says there's no fear that he will get too much attention for his looks. After all, he admits, to get a vote, you have to first get their attention.
E-mail to a friend

All About U.S. Congress • Republican Party