WASHINGTON (CNN) -- The national debate on health care entered a new arena Tuesday, with Senate Democrats proposing a comprehensive bill that will launch a heated congressional battle to determine if America adopts universal coverage.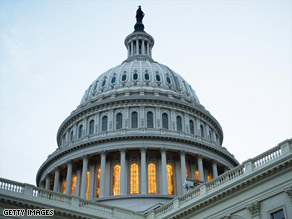 Democrats hope to pass health care reform legislation this year.
Sen. Christopher Dodd, D-Connecticut, told a news conference the bill to be released later in the day was the first step in addressing the nation's ailing health care system. Also Tuesday, House Democrats were expected to release their general outline for legislation.
Dodd cited a litany of problems -- 47 million Americans uninsured, excessive costs, unequal services -- that make the issue one of President Obama's top domestic priorities.
"This is the only bill I know of ... where every single one of our citizens will be affected by what we do" for years to come, Dodd said.
The main question is whether Obama and congressional Democrats will be able to include a so-called "national option" of government-funded health care to compete with existing programs. Republican leaders oppose such a move, calling it the first step to a government-run system.
Unlike previous attempts to address the complex and thorny issue, this year's health care debate includes acknowledgment by major players such as the insurance industry that reform is needed for the system.
"Candidly, we've got a lot more people at the table who want this done," Dodd said.
He addressed concerns raised by Republicans, saying that the Democratic proposal would maintain the ability of Americans to choose their coverage and doctors.
"If you like what you've got, you get to keep it," he said. "We're not changing that."
Dodd also said the proposal contains gaps on some contentious issues, including the specifics of a government-run option, so that Republicans can offer alternatives.

Watch more on the health care debate »
"My fervent hope is ... to get a bipartisan bill," said Dodd, who is leading the Senate Democratic effort in place of ailing colleague Sen. Edward Kennedy, D-Massachusetts, a longtime champion of health care reform who provided the initial draft of the new bill.
On Tuesday, Obama deployed his health czar Monday to brief state Democratic Party leaders, operatives and activists on the White House's strategy to pass health care reform this year, a party source tells CNN.
Nancy-Ann DeParle's conference call with Democratic state party chairs, senior state political aides and health care activists follows Organizing for America's campaign-style house parties, held this past weekend to help build support for health care reform from the grassroots level. DeParle serves as counselor to the president and director of the White House Office of Health Reform.
Obama himself called on Congress this past weekend to send him a health care bill by October.
"We are building off of the 50-state strategy and making sure we are able to use the state parties as an effective tool, in addition to President Obama's grassroots network, Organizing for America, to advance the president's agenda," said a source familiar with the details of the call, who spoke on the condition of anonymity.
On Monday, key negotiators broke up a session still stuck on whether to create a government-run plan to compete with private insurers. Obama is pushing hard for such an option, saying it would help consumers and keep costs down.
Critics say a government-sponsored option could drive out private insurers and potentially lower the quality of health care. Some fear that such a program would hurt those who have a plan they like, because employers would opt for the government program if it were less expensive.
"A public plan is a nonstarter," Sen. Orrin Hatch, R-Utah, said Monday. "They're trying to come up with various ways to have a public plan without calling it that."
In the House, an outline for possible legislation includes creating a public government-run insurance plan to compete with private insurers, along with a new mandate on all individuals to carry health insurance, according to a senior Democratic congressional source familiar with it.
Obama has urged lawmakers to come together on health care, warning that fixing the system is "a necessity we cannot postpone any longer."

On Tuesday, leaders of the House minority caucuses called for steps to end disparities in U.S. health care that lead to higher incidences of diseases such as diabetes among some minority populations. They cited lack of universal coverage and access to facilities in minority communities as major problems.
"If there's no public health option in the health care debate, there will be a lot of resistance," said Rep. Mike Honda, D-California, chairman of the Congressional Asian Pacific American Caucus.
E-mail to a friend

CNN's Mark Preston contributed to this report.
All About Health Care Policy • Barack Obama