WASHINGTON (CNN) -- The U.S. government's process for awarding contracts for construction and other needs in Iraq and Afghanistan continues to be vulnerable to fraud and waste, according to a government-ordered review released Wednesday.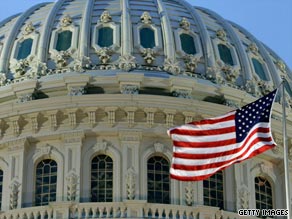 A House subcommittee is examining a review of military contractors.
The interim report by the Commission on Wartime Contracting, created last year, found a lack of proper oversight in how the U.S. military contracts support services at a time when major resources are being shifted from Iraq to Afghanistan.
"In short, the environment in Iraq and Afghanistan has been and continues to be susceptible to waste, fraud and abuse," commission Co-chairman Michael Thibault said at a hearing of the House National Security and Foreign Affairs subcommittee.
Of the $830 billion the government has spent in Iraq and Afghanistan since 2001, more than $150 billion has gone for contracts, said commission Co-chairman Christopher Shays, a former congressman. Those contracts have employed 240,000 workers in the two war theaters -- more than the number of U.S. troops.
With the military focus shifting back to Afghanistan, the report calls for better management to eliminate problems that have cost the government billions in taxpayer dollars.
"We must look at mistakes of hurried contracting in Iraq that we don't want to repeat in Afghanistan," said Rep. John Tierney, D-Massachusetts, the subcommittee chairman.
Shays said the top priority is getting the Defense Department to make better oversight a top priority.
"We don't have enough people watching the contractors," Shays said, noting that 70 percent of the contracts go to subcontractors outside direct review.
Rep. Stephen Lynch, D-Massachusetts, said the "sloppy" review process cited by the interim report would never happen in the private sector.
"It's only happening because it's taxpayers' dollars," he said. "We can't continue to operate this way in terms of contracts going out without proper accountability standards."
E-mail to a friend

All About U.S. Armed Forces Activities • Iraq • Afghanistan