WASHINGTON (CNN) -- Partisan sniping over allegations that the CIA intentionally misled lawmakers in recent years escalated sharply Thursday, with Republicans accusing Democrats of undermining national security and Democrats charging intelligence officials with illegally concealing information.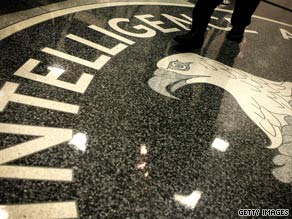 Democrats have accused the Central Intelligence Agency of misleading Congress.
The latest round of accusations came one day after seven House Democrats released a letter claiming that CIA Director Leon Panetta -- on the job less than five months -- told Congress the CIA has repeatedly concealed information and misled lawmakers since 2001.
Rep. Pete Hoekstra, R-Michigan, said it appeared House Democrats were "working on the political equation [instead of] trying to foster a bipartisan consensus on national security" by publicly asking Panetta to "correct" his previous assertion that the CIA never misled Congress.
"We're trying to focus on national security policy ... and the Democrats, from my perspective, are looking for some adult supervision," he added.
Hoekstra, the ranking Republican on the House Intelligence Committee, made his comments during an appearance on CBS's "Early Show." He was later joined by House Minority Leader John Boehner, R-Ohio, who emphasized to Capitol Hill reporters that he does "not believe that the CIA lied to Congress."
The Democrats' letter to Panetta, dated June 26, was published Wednesday evening on the Web site of Rep. Anna Eshoo, D-California. Panetta testified to the House Permanent Select Committee on Intelligence at a classified hearing on June 24, according to Eshoo.
"Recently you testified that you have determined that top CIA officials have concealed significant actions from all members of Congress, and misled members for a number of years from 2001 to this week," said the letter, signed by Eshoo and six other House Democrats -- Reps. John Tierney of Massachusetts, Mike Thompson of California, Rush Holt of New Jersey, Alcee Hastings of Florida, Adam Smith of Washington and Janice Schakowsky of Illinois.
The letter contained no details about what information the CIA officials allegedly concealed, or how they purportedly misled members of Congress.
"This is similar to other deceptions of which we are aware from other recent periods. In light of your testimony, we ask that you publicly correct your statement of May 15, 2009," the letter said.
The Panetta statement the lawmakers mentioned came in a letter to CIA employees that was released publicly.
"Let me be clear: It is not our policy or practice to mislead Congress," Panetta said in the letter. "That is against our laws and our values."
Panetta was responding to an accusation made one day earlier by House Speaker Nancy Pelosi, who charged that the CIA misled Congress in a secret briefing she received in 2002. Pelosi said the CIA failed to inform her and others at the briefing about harsh interrogation techniques being used on terrorism suspects.
The CIA responded that Pelosi was told about the harsh techniques, including waterboarding, at the classified 2002 briefing.
Panetta did, however, learn about an intelligence issue "not adequately briefed" to Congress shortly before he appeared before congressional intelligence committees last month to set the record straight, according to a source knowledgeable about the briefings.
The source said it was "something initiated years ago" that had "nothing to do" with the CIA's controversial interrogation and detention program, but was "related" to the Bush administration's war on terror.
According to the source, Panetta "did not go to Congress to say the agency had misled ... or had lied."
The source would not provide specifics about the issue in question, because it is a top secret matter discussed during a classified briefing.
Republicans and Democrats disagreed sharply over the status of the unidentified program.
Hoekstra told CNN that he is unconcerned that Congress had not been informed earlier because "the bottom line" is that "the Bush administration never made a decision to move forward with [the] program."
He argued that what he's "really concerned about is when [our intelligence agencies] take an action against a foreign country." Congress should then be briefed and "have an opportunity to stop [the] program if we think it's inappropriate to move forward."
Eshoo, however, said Panetta told the House Intelligence Committee "there was an operation that was in place from 2001 until the day before he came to notify us."
She credited Panetta for informing Congress about the existence of the program, but said his admission means "something very serious broke down."
The executive branch has a responsibility "to keep the Congress fully informed in a timely fashion," she said. It "is very, very serious to have withheld information. ... We cannot have secret operations going on without being informed."
Boehner, for his part, repeated his call Thursday for Pelosi to provide evidence to back up her charge that the CIA misled her.
"For the speaker to say that she wasn't briefed, and then she said she was briefed, and then to come out and accuse [the CIA] of lying -- I think it's way over the top," Boehner argued.
"I'm still waiting for Speaker Pelosi to either put up the facts or retract her statement and apologize, and I don't know that this letter changes anything with regard to the speaker's action."
House Republicans previously attempted to force an investigation into Pelosi's claim that the CIA lied to her, but their efforts were blocked by Democrats.
Pelosi brushed aside the latest GOP criticism, calling it a ploy to divert public attention from the Democrats' legislative agenda.
"Our success is driving the Republicans to distraction," she told reporters earlier in the day at a Capitol Hill news conference. The House Intelligence Committee "will be pursuing this [matter] in their regular committee process."
Pelosi appeared to hint at a strained relationship with Panetta, struggling to come up with an answer when asked by a reporter when she last spoke with the CIA chief. She said she was receiving regular intelligence briefings from Director of National Intelligence Dennis Blair, as opposed to the CIA.
Asked about the Democrats' letter, CIA spokesman George Little said Wednesday night that Panetta "stands by his May 15 statement" in the letter to CIA employees.
"This agency and this director believe it is vital to keep the Congress fully and currently informed. Director Panetta's actions back that up," Little said in a statement. "As the letter from these representatives notes, it was the CIA itself that took the initiative to notify the oversight committees."
Rep. Silvestre Reyes, D-Texas, the chairman of the House Intelligence committee, said in a statement Wednesday night that "certain" CIA officers "have not adhered to the high standards held, as a rule, by the CIA with respect to truthfulness and reporting."
"I appreciate Director Panetta's recent efforts to bring issues to the committee's attention that, for some reason, had not been previously conveyed, and to make certain that the committee is fully and currently briefed on all intelligence activities," Reyes said in his statement. "I understand his direction to be that the agency does not and will not lie to Congress, and he has set a high standard for truth in reporting to Congress."
The issue over whether the CIA misled Congress served as an explosive backdrop to a scheduled House vote Thursday on an intelligence spending measure that includes a provision to expand the number of House and Senate members privy to the kind of secret briefing that Pelosi received.
The White House opposes the provision to expand the number of briefing participants from the current eight to 40 members of Congress.
A White House memo warned that President Obama's senior advisers would recommend a veto of the bill if it contained the expanded briefing provision.
In a statement late Wednesday night, Hoekstra's spokesman called the Obama veto threat ironic as Democrats attack the CIA to try to protect Pelosi for her allegation of being misled.
"It is unfortunate that the president's veto threat and the continued attacks by partisans against the CIA are a direct result of congressional Democrats continued heavy handed attempts to cover up for Speaker Pelosi and what she knew and didn't do regarding enhanced interrogation," said the statement by Hoekstra spokesman Jamal Ware.
GOP congressional leaders, however, struck a more light-hearted tone on Thursday.
"I think that the catfight going on within the Democratic Party can continue," Boehner told reporters.
E-mail to a friend

CNN's Deirdre Walsh, Bob Kovach and Pam Benson contributed to this report.
All About Central Intelligence Agency • U.S. Congress