WASHINGTON (CNN) -- The Obama administration is calling together a wide range of officials next month to address how to end accidents caused by distracted motorists.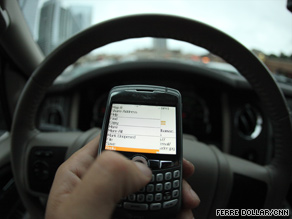 The likelihood of a crash due to texting disproportionately affects truckers, according to a recent study.
The September summit will bring together transportation experts, safety advocates, law enforcement officers and members of Congress, Transportation Secretary Ray LaHood said Tuesday.
LaHood said the goal is to develop a list of "concrete steps" toward reducing distracted-driving accidents.
"We all know texting while driving is dangerous," the transportation chief said, "and I promise you we're going to do something about it so that responsible drivers don't have to worry every time they, or a loved one, get on the road."
Last week, a Virginia Tech Transportation Institute study found that truck drivers who texted while driving were 23 times more likely to crash or nearly get into wrecks than undistracted drivers.

Watch how hard it is to text and drive »
Compared with dialing, talking, listening or reaching for an electronic device, texting posed the greatest accident risk, the study found -- most likely due to the almost five seconds researchers found the drivers' eyes were off the roadway while texting, said Rich Hanowski, director of the transportation institute's Center for Truck and Bus Safety.
After the study's release, four Democratic senators responded with a bill for a nationwide ban on texting while driving for car and truck drivers and operators of mass transit.
Sens. Charles Schumer of New York, Robert Menendez of New Jersey, Mary Landrieu of Louisiana and Kay Hagan of North Carolina unveiled the ALERT Drivers Act proposal last Wednesday. It would have the Department of Transportation set minimum compliance standards that states would have to meet within two years, they said. States that did not could lose 25 percent of federal highway funding.
"If it were up to me, I would ban drivers from texting immediately," LaHood said. "But we've learned from our efforts to get people to wear seat belts and to persuade people not to drink and drive that laws aren't always enough. Often, you need to combine education with enforcement to get results."

Watch how a study says texting increases the crash risk for truckers »
Fourteen states and the District of Columbia already have laws barring texting while driving. Those states are Alaska, Arkansas, California, Colorado, Connecticut, Louisiana, Maryland, Minnesota, New Jersey, North Carolina, Tennessee, Utah, Virginia and Washington.
The focus on texting while driving comes after a few high-profile accidents.

In September, a California commuter train engineer missed a stop signal while trading text messages with a friend, leading to a collision with a freight train that killed 25 people, according to federal investigators.
A mass-transit accident in Boston, Massachusetts, injured 62 people in May. The operator of a Massachusetts Bay Transportation Authority trolley later was charged with gross negligence after admitting he had been texting seconds before the collision with another trolley, according to the Suffolk County district attorney and a National Transportation Safety Board official.
E-mail to a friend

All About Personal Information Devices • Cellular Phones • U.S. Department of Transportation