From Ed Hornick
CNN






(CNN) -- Senators, like many in the House, continue to face grilling from constituents concerned about proposed health care legislation before Congress.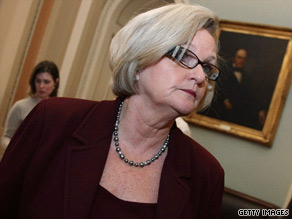 Sen. Claire McCaskill, D-Missouri, says her goal is to have a "civil" debate at town hall meetings.
Although some meetings have been "civil," as one senator pointed out Monday, at least one lawmaker has received a threat from those angry about a plan being devised by Democrats.
Three House committees have been working on a plan. On the Senate side, two committees are working on a proposal -- before negotiations begin between top members of both chambers.
And the negotiations are heating up. On Thursday, Obama met privately at the White House with the "Gang of Six," three Democrats and three Republicans working to find middle ground on the issue.
Not all town hall meetings have been raucous. Sen. Claire McCaskill, D-Missouri, held a town hall meeting Monday morning in Kennett, Missouri, to help clarify what she says is some of the misinformation that is being circulated.

Learn more about the proposed plans »
"This is Missouri manners at its best. People have really strong opinions here, but I think we've had a good, full discussion," said McCaskill, who supports a public health care option. "I think I was able to hopefully correct some really bad misinformation. ... People are just getting information that is just flat wrong."
As for claims by interest groups and some Republicans, seniors will not face dire conditions under a Democratic plan, she said.
"The most important thing: I have an 81-year-old mother that is incredibly important to me. And the notion that I would ever or our government would ever do anything to cut short or dismiss the quality of life for our seniors is so offensive to me as an American. As the AARP said, it's a flat lie."
And it's not just McCaskill who is trying to clarify; so is the White House on a new Web site.
Citing "a troubling trend" of "wild rumors and scare tactics," on Monday the White House announced the Reality Check Web site, which "focuses on what reform really means for you and your family" and "debunks some common myths along the way," White House New Media Director Macon Phillips wrote.
Officials hope that the new site, coupled with a push by politicians debunking health care rumors, will help ease the tension at these town halls.

Watch more on the town hall anger »
The Web page features half a dozen videos from Obama aides who discuss various aspects of health care reform, and it has a set of FAQs, or frequently asked questions, about reform.
Meanwhile, for one member of Congress, the anger over health care has become dangerous.
Rep. Brad Miller said that on Monday, a caller said that "if I supported the health care plan, it could cost me my life."
"My staff member who took the call was taken aback and asked them to repeat it, and he did. And then he said, 'Is that a threat?' And he said there are a lot of angry people," the North Carolina Democrat added.
Miller said that although the meetings are made up of constituents, there are some who are being encouraged by conservatives and the Republican Party.
On "Fox News Sunday," Senate Minority Leader Mitch McConnell, R-Kentucky, said such complaints were "absurd."
"I think attacking citizens in our country for expressing their opinions about an issue of this magnitude may indicate some weakness in their position on the merits," McConnell said. "And I also think it's particularly absurd for the Democrats, who have over an $8 million e-mail list over at the [Democratic National Committee] called Organize America, to be criticizing citizens for being organized."

Compare health care systems worldwide »
Conservative groups critical of Democrats' overhaul proposals have created their own plans: sending out information such as links to search engines, lists that relayed the locations of upcoming town halls, confrontational questions to ask members of Congress and chants and slogans to use in and around the venues.
The conservative group Freedom Works urged supporters in a post on its Web site entitled "Turn Up the Heat in August: Help Defeat ObamaCare and Cap-and-Trade" to take to town halls, organize and demand answers from their representatives.
"Obama and his liberal allies are working with PhRMA, the big, bad drug companies, to push government-run health care on the American people," according to the Web site.
Liberal organizations, meanwhile, have sent supporters detailed instructions on strategies to counter what they call organized disruptions of congressional health care town hall meetings.
Groups such as Health Care for America Now and MoveOn.org, along with top labor groups, passed along logistical tips for dealing with any hostile conservative presence at the town halls, and for organizing lobbying efforts to neutralize their impact.
Sen. Dick Durbin, D-Illinois, backed up Miller's claims.
The Senate's second-highest Democrat slammed recent town hall protests Sunday as organized disruptions of the democratic process.
"We have these screaming groups on either side. That isn't helpful. Let's be honest about this. Town meetings are not bean bag. I've had hundreds of them, and sometimes folks get upset. And that's part of America, part of our process," Durbin told CNN's John King on "State of the Union."

Watch more of Durbin's comments »
"But this is clearly being orchestrated, and these folks have instructions. They come down from a Texas lobbyist in Washington," he said.
A health care town hall meeting in Florida on Thursday dissolved into bouts of heckling and violent pushing and shoving among attendees.

The meeting in Tampa, which featured Democratic Rep. Kathy Castor and Florida state Rep. Betty Reed, was another example of the tense battle lines that have been created in the passionate health care debate.
As Castor began to speak, scuffles broke out as people tried to get into the meeting room. Parts of the congresswoman's speech were drowned out by chants of "read the bill, read the bill" and "tyranny," video of the meeting showed.
E-mail to a friend

CNN's Rebecca Sinderbrand contributed to this report.
All About Health Care Issues