By John King
CNN Chief National Correspondent





Editor's note: On CNN's "State of the Union," host and Chief National Correspondent John King goes outside the Beltway to report on the issues affecting communities across the country.
FORT RILEY, Kansas (CNN) -- They are lined up neatly, but casually, waiting to be outfitted for another trip to the place they call "The Sand Box."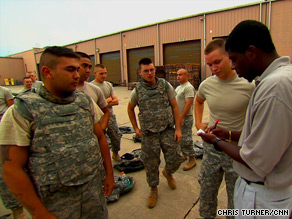 1st Infantry Division troops are outfitted with new combat protective vests before another rotation to Iraq.
Snug new undershirts to wear under a newer, updated combat protective vest. New desert fatigues, even new battlefield identification cards. Several stops along the way, and then at the end of the line a briefing on how the new vest works -- and how it is different from the one many of these soldiers wore on their last deployment.
Yes, the United States is in the early stages of its plan to withdraw its combat troops from Iraq by the end of August 2010. But rotations still mean more troops are needed, and as Fort Riley prepares to welcome one unit home from Iraq in the days ahead, another is preparing to head out.
"I hate to say we get used to it, but we know it is part and parcel, and so we just accept it," Tricia Verschage said in an interview on base this week. "And we meet it as a challenge."
Her husband, Master Sgt. John Verschage is preparing for his second Iraq deployment. His 1st Infantry Division unit is scheduled to ship out in the next week.
"I'll have my one day of pity party and then I'll be OK," Tricia said. "And then it's a countdown. Once he is on the plane, then it's 364 [days] and so on."
As Sgt. Verschage packs to leave, a now familiar cycle is playing out at his home -- and homes across Fort Riley and the surrounding community. There are four Verschage children, ranging in age from 11 to 18.
State of the Union
John King reinvents Sunday talk: more time for more politics.
9 a.m. ET Sunday

"Dad gets very clingy and the kids start distancing themselves, because they know, 'OK, he is leaving soon, so we just got to start being very independent now,' " said Tricia Verschage. "And he starts wanting to spend all this time with them."
The statistics of war that are most familiar to the American people are these: More than 4,300 American military deaths in Iraq since March 2003, and more than 700 U.S. military deaths in and around Afghanistan since the fall of 2001. Here at Fort Riley, 166 1st Infantry Division soldiers have died in Iraq and Afghanistan combined, and are honored at a war memorial outside division headquarters.
Often overlooked in the understandable focus on casualties are these stunning numbers: As of June 30 -- the latest Pentagon numbers available -- some 1,955,358 service members have deployed overseas to support military operations in Iraq or Afghanistan. Of that number, more than 750,000 have deployed more than once.
"There is no question the deployment cycle is draining the families," said Cheryl Erickson, the director of Army Community Services at Fort Riley. "The challenge in the Army is building resiliency in those families so they can deal with the strain."
That strain can manifest itself in ways large and small. Suicide rates in the military are on the rise, as are incidences of divorce and domestic violence. Erickson, who has been involved in military family programs for 15 years, takes pride in a support system she says is far better prepared and better staffed to deal with the strain of repeat deployments than it was in the early days of the Iraq war.
Don't Miss
Eleven positions have been added at her center at Fort Riley. More child development centers means no more waiting list and, significantly, she says a shift in how some services are offered is making a difference.
In the not so distant past, a soldier seeking mental health counseling or other sensitive care could get help, "but it would have been in your medical record, and maybe you would be afraid your command would know or your doctor would notify your commander," Erickson said. Now, "a soldier or family member can go in complete anonymity. I couldn't get those names. The commanding general couldn't get those names. So they can go in and get help without any stigma at all."
As he prepares for another deployment to Iraq, Lt. Col. David Waters said he is "more motivated today than I've ever been."
Waters is the 1st Infantry Division chaplain, a 20-year Army veteran who matter of factly lays out the reality of Army life, even as troop levels in Iraq begin to come down: "They're not going away. We don't see the deployments going away anytime soon."
A new family life chaplain has been added at Fort Riley and other bases, again part of an Army effort to adapt to the strain of repeat deployments to hostile environments.
"It's an unnatural environment," Waters said in an interview at Fort Riley's Normandy Chapel. "We were meant to be together with our families. And it's not a natural thing to be apart. Since we started what I still call 'the war on terror,' it has become the new norm. And so it has just become part of the battle rhythm. Everybody knows that if you are in an operational unit in the Army, that's the cycle of how you are going to deploy."
Chaplains deploy with the unit, and because of that Waters believes soldiers are more willing to come for spiritual and other advice. With the strain of repeat deployments growing, Waters says a major challenge for the chaplains has been to learn ways to get soldiers to take the next steps, if necessary.
"We're trying to help ... to reduce any stigma for soldiers and family members who seek help, whether it is from the chaplain or mental health or at the hospital," Waters said.
Most of those at Fort Riley preparing to leave in the next week or so believe this will be their last deployment to Iraq. There were just shy of 140,000 troops there in January, and that number is at 130,000 and falling as the U.S. implements its withdrawal plans.
But those who have deployed two or three times before have also heard talk of the Iraqis taking over security before, and this week's deadly violence in Iraq has again raised questions about the readiness of Iraqi security forces, and the stability of Iraq's political situation.

Watch more on violence in Iraq this week »
So while most believe this time is different, there are few willing to say with certainty there will not be a change in course.
"I believe there is trust, but at the same time we realize if the climate changes, and the mission has to change, we will have to 'soldier up' and adjust to that," Waters said.
Maj. Gerald Rebeschini is among those who believe the end of U.S. involvement in Iraq is approaching.
"They really want to take control from the coalition forces and begin to lead their country," said Rebeschini, who is just back from Iraq, and the Baghdad area. "The Iraqis were already in the lead in our area."
Three deployments in six years is his experience -- two to Iraq and one to Afghanistan. Which means missing many key moments in the early lives of a son who is now 8 and a daughter who is 4.
"My daughter got taller and she's got a nice little personality on her now," Rebeschini said. "Lots of new things to find out about her. And my son got bigger and more independent."
The hardest thing, he said, "is not disrupting the family rhythm. My wife established a rhythm and when daddy got home, everything went astray. Luckily it is summertime so it did not upset the kids too much. But [the hardest thing is] learning the new rules of the house and making sure I know what the kids are doing."
After being home a few days, Rebeschini had to head into base for the first time and his daughter saw him getting ready. "She cried her heart out when daddy put his uniform on," he said. "I told her I would be home that night and I was, but she still had a hard time with me putting the uniform on."
Anna Hurning has seen more than her share of tears, too.
She tears up as she recounts the story of her daughter watching a home video of her father reading to her.
"I played that to her after he went," to Iraq a year ago, Hurning said. "She didn't understand it is not a window, and that Dad's really not sitting behind the glass. ... [She] would knock on the window and wanted Dad to take her hand. You know, it's the hardest. She's 4. She doesn't understand why Dad is gone. I'm 33, and I can wrap my brain around it."
Hurning's husband, Sgt. 1st Class Mark Hurning, is finishing up his second Iraq deployment -- two overseas combat stints with a 4-year-old daughter.
"Missed the first smile," Hurning said. "Missed the first teeth. Missed a lot of firsts."
Daughter Hanna couldn't quite grasp the idea of what a year overseas meant. So mother and daughter made a paper chain -- one link for every day left in the deployment.
"And every night before going to bed, she'll take a chain off," Anna said. "So that kind of gives her a visual of how long."
With her husband due back soon, Anna is hoping he gets orders to an assignment at Fort Stewart, Georgia, that would mean no overseas deployments for three years. But the orders haven't come yet.

She answered immediately when we asked: Do you need a break?
"I do."
E-mail to a friend

All About Iraq War • U.S. Army • 1st Infantry Division • Fort Riley