By Barbara Starr and Ed Hornick
CNN






WASHINGTON (CNN) -- In a sign that President Obama is facing growing skepticism within his own party on Afghanistan, House Majority Leader Steny Hoyer said Tuesday that the U.S. commander in Afghanistan should brief Congress on his recommendations for revising U.S. military strategy.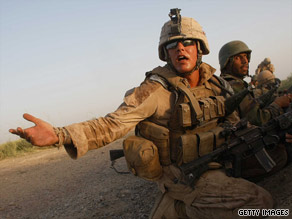 The United States has about 62,000 U.S. troops in Afghanistan.
"I think it is useful at some point in time for Gen. [Stanley] McChrystal to share with the Congress, both the Senate and the House, his views and his proposals and his sense of the success that change in strategy would have," Hoyer said Tuesday.
Leading Republicans recently called for McChrystal and Gen. David Petraeus -- the U.S. commander in the Middle East and Central Asia -- to testify publicly about their recommendations.
Hoyer has so far declined to put a time frame on when Congress should get the assessment.
Recently, McChrystal warned that more troops are needed there within the next year or the nearly 8-year-old war "will likely result in failure," according to a copy of a 66-page document obtained by The Washington Post.
"Failure to gain the initiative and reverse insurgent momentum in the near-term (next 12 months) -- while Afghan security capacity matures -- risks an outcome where defeating the insurgency is no longer possible," McChrystal said in the document.
The document was "leaked" to the newspaper, but parts were omitted after consultations between the newspaper and the Department of Defense, Pentagon spokesman Geoff Morrell said.
"While we would have much preferred none of this be made public at this time, we appreciate the paper's willingness to edit out those passages, which would likely have endangered personnel and operations in Afghanistan," Morrell said in a statement. He indicated that Defense Secretary Robert Gates doesn't think now is the right time for McChrystal to come back.
Senate Armed Services Committee Chairman Carl Levin, D-Michigan, echoed that thought Tuesday.
"At the present time, while Gen. McChrystal has submitted his assessment of the situation on the ground and his recommendations concerning the strategy for Afghanistan up through the chain of command, he has not yet submitted his recommendation as to the resources that he believes would be needed to implement the strategy," Levin said in a letter to committee members Sen. Joseph Lieberman, I-Connecticut; Sen. Lindsey Graham, R-South Carolina; and Sen. John McCain of Arizona, the committee's ranking Republican.
Noting that discussions on strategy are ongoing, Levin added, "I believe that it is premature to seek the military commanders' testimony on their resource recommendations to implement a strategy before the president's senior advisers, including Admiral [Michael] Mullen and Secretary [Robert] Gates, have had an opportunity to provide their advice to the president relative to those recommendations." Mullen is chairman of the Joint Chiefs of Staff.
Levin said that was the way the committee handled Petraeus' testimony supporting the 2007 surge of U.S. forces in Iraq.
Levin's letter came in response to a letter from the three senators as well as six others -- all Republican -- asking him to schedule a public hearing with McChrystal and other senior military commanders "as soon as possible."
"We feel that it is essential that the Congress and the American people, who are understandably weary after nearly eight years of war, understand why the future of Afghanistan is linked to our own safety and prosperity at home," they said.
Critics have questioned whether Obama has deployed enough troops, or whether his strategy can contain rising violence and a resurgent Taliban.
For his part, the president has been considering the assessment of troop levels -- and the overall strategy in the region -- completed by McChrystal over the summer.
"Let's do a soup-to-nuts re-evaluation, focusing on what our original goal was, which was to get al Qaeda, the people who killed 3,000 Americans," Obama said on CNN's "State of the Union" on Sunday.
Obama said a review of U.S. strategy in Afghanistan won't be driven "by the politics of the moment."
But as violence increases daily in Afghanistan, the calls for a major troop buildup are growing louder.
"If you are going to get the tribes over on your side and the side of government, you have to have enough people there to make things happen for them economically, socially and in terms of security," said retired Gen. Montgomery Meigs.
It's a plan that Afghan President Hamid Karzai supports.
The call for more U.S. soldiers is "the right approach ... and we back it," Karzai said during an interview with CNN's Christiane Amanpour.
The United States now has about 62,000 U.S. troops in Afghanistan, with NATO and other allies contributing about 35,000 more.
Some observers have said attacking al Qaeda is fundamentally a counterterrorism strategy, requiring a limited number of new troops. It's the Plan B strategy advocated by some in the White House according to a senior pentagon official.
"The last thing Afghanistan needs is for us to increase troops and then run out the door again," said Rory Stewart, the director of Harvard University's Carr Center for Human Rights. "We've seen a lot of boom and bust. It needs a patient, long-term relationship."
Levin has said adding more U.S. troops right away is not the only answer.
"I've been recommending to the president that, first of all, before any consideration is made of additional combat forces, that we get the Afghan army bigger, better equipped," he said Sunday on CNN's "State of the Union."

Watch more of Levin's approach to Afghanistan »
But no matter what is decided, the bottom line is: support for the war is declining in the United States, and both the president and his commander will have to make the case for whatever comes next.

A CNN/Opinion Research Corp. survey released on September 15 indicated that 39 percent of Americans favor the war in Afghanistan, with 58 percent opposed to the mission.
Support is down from 53 percent in April, marking the lowest level since the start of the U.S. military mission in Afghanistan soon after the September 11, 2001, attacks.

E-mail to a friend

CNN congressional producer Deirdre Walsh contributed to this report.
All About Barack Obama • Afghanistan