By Barbara Starr
CNN Pentagon Correspondent





WASHINGTON (CNN) -- The top U.S. commander in Afghanistan will send his request for more resources to combat the insurgency there in the next several days, according to a senior U.S. defense official familiar with the situation.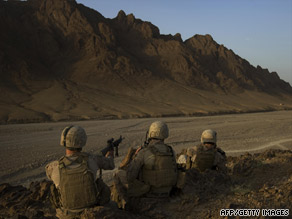 Gen. Stanley McChrystal has warned that without more troops, the U.S. could lose the war in Afghanistan.
Gen. Stanley McChrystal "will make a recommendation about the total forces he thinks he needs," the official said Wednesday.
The Obama administration previously told McChrystal to delay presenting that force recommendation until he was asked for it, but the official said the request now will go forward because many of the technical issues have been worked out about submitting it to the administration and NATO.
It's widely expected, according to several officials, that the general will say that tens of thousands of additional forces are needed in Afghanistan. But the senior defense official said the recommendation McChrystal is submitting will be "analytical" rather than a detailed list of military units and pieces of equipment required.

Watch what the options are for Afghanistan »
It will be a recommendation about what resources are needed to carry out the counterinsurgency strategy the general laid out in an assessment submitted to the Obama administration weeks ago. In that report, McChrystal said more troops were required as well as a significant and lengthy commitment to fighting the growing insurgency.
But the delay ordered by the administration for a specific troop request has sparked controversy.
"What I really don't understand ... is why you would tell your general in the field not to send his recommendations for the troop levels that are needed in order to implement a strategy which, according to the chairman of the Joint Chiefs of Staff, was formulated last March," said Sen. John McCain, R-Arizona, on Tuesday.
"Any leader, I think, would want to get the maximum amount of information from your people you have given positions of responsibility."
A senior U.S. military official confirmed the White House is reviewing the whole idea of the counterinsurgency strategy that President Obama approved in March. The official said that review is due to the rising violence in Afghanistan, the unresolved Afghan presidential election and the dire outlook presented by McChrystal.

In his assessment of the situation, McChrystal warned that more troops are needed within the next year or the war "will likely result in failure," according to a copy of the 66-page document that The Washington Post obtained.
"Failure to gain the initiative and reverse insurgent momentum in the near term (next 12 months) -- while Afghan security capacity matures -- risks an outcome where defeating the insurgency is no longer possible," McChrystal said in the document.
E-mail to a friend

All About Afghanistan War • Stanley McChrystal