NEW YORK (CNN) -- Talks with Iran on its nuclear program might be more urgent after the Islamic republic's revelations of a second nuclear facility but trust will be an impediment, former President Bill Clinton said Friday.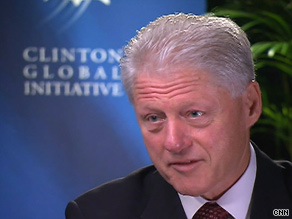 Former President Bill Clinton praised President Obama for putting Iran on notice regarding its nuclear efforts.
The terms of the negotiations will make or break the talks, Clinton said in an interview with CNN's Anderson Cooper. Now that Iran knows its nuclear facilities have been discovered, discussions might be worthwhile, Clinton said.
Clinton compared it to past negotiations with Iraq.
"It's just like Saddam Hussein when he was there," Clinton said. "If you can verify, you can make a deal with anybody."
Iranian President Mahmoud Ahmadinejad, however, has left no room for trust, Clinton said.
"You can't believe what Ahmadinejad said," he said.
Clinton discussed a variety of issues with Cooper on Friday, among them the showdown with Iran, the war in Afghanistan and his change of heart on same-sex marriage.
Clinton said President Obama and his French and British counterparts "did exactly the right thing" Friday to put Iran on notice regarding its nuclear efforts.
Iran has denied it has done anything wrong and claims its nuclear plants are intended for civilian purposes. But Clinton said it was "inconceivable" and wondered why Iran would need a nuclear laboratory capable of producing one nuclear weapon a year.
Don't Miss
"Iran's got some explaining to do," Clinton said.
On Afghanistan and whether Obama should heed U.S. commander Gen. Stanley McChrystal's request for more U.S. troops, Clinton said he was not privy to any inside information but laid out his observations on the war, now in its eighth year.

Watch Clinton discuss views on Afghanistan »
He said the surge in U.S. troops in Iraq worked in part because of the extra American boots on the ground but also because Iraqis began forming alliances against al Qaeda in Iraq.
"General McChrystal is clearly right," Clinton said. "That is, when he says if we want to prevail there, we need more military resources. But what the president knows is that if we put military resources in there, to try to recreate an Afghan version of what the Iraqi surge was, it doesn't mean we will prevail."
Unlike the Iraqis during the surge, Clinton said Afghans are still on the fence and may not be as supportive of U.S. actions.
"I think the president must be thinking, 'Well at least I need to wait until we see how the election plays out,'" Clinton said, referring to the August election in Afghanistan that many have alleged was rife with fraud. He said it will be difficult to move forward until the results are certified and a winner has been declared.
"I think if I were in the president's position now, I might want a little time," Clinton said. "Our people on the ground are extremely gifted. We can't succeed without it. But alone, it's not enough for success.
"The enterprise is worth it, but only if it can engage the people. Only if the people of Afghanistan are prepared to do this."
Later in the interview, Clinton described his change of heart regarding same-sex marriage, which he now supports.
"I believe historically, for two hundred and something years, marriage has been a question left to the states and the religious institutions," Clinton said.
"I still think that's where it belongs. That is, I was against the constitutional amendment to ban gay marriage nationwide, and I still think that the American people should be able to play this out in debates. But me, Bill Clinton personally, I changed my position. I am no longer opposed to that. I think if people want to make commitments that last a lifetime, they ought to be able to do it."

Watch Clinton discuss change of heart »
In 1996, Clinton signed the Defense of Marriage Act, which bars same-sex marriage.
Clinton ended the interview on a lighter note with remarks about Obama's graying hair.

"He's getting a little gray, isn't he," said Clinton, who knows from first-hand experience what that feels like.
"No, I think he's happy about it," Clinton said. "I think he knows he's young and hip and cool so I think, you know, I actually almost accuse him of spraying the gray in there trying to broaden his political constituency."
E-mail to a friend

All About Bill Clinton • Iran • Same-Sex Marriage