To: Interested Parties
From: John King, CNN chief national correspondent
Re: Monday Memo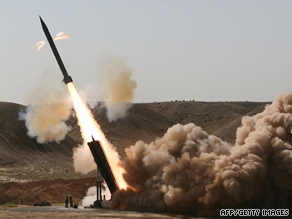 Amid growing tensions with Washington over its nuclear ambitions, Iran tests a short-range missile on Sunday.
(CNN) -- It is a week that will see a potentially defining test in the health care debate, and yet those negotiations are likely to be overshadowed by a set in which Iran has a seat at the table and at which the administration's new claim of leverage in the nuclear standoff with Iran will be put to the test.
"Prove it," was Secretary of State Hillary Clinton's to-the-point refrain when asked on the CBS program "Face the Nation" about Iran's claims its newly disclosed underground nuclear facility was for peaceful purposes and that the international outrage was much ado about nothing.
Defense Secretary Robert Gates told us on CNN's "State of the Union" that, having been caught, the Iranians are in a tight spot -- one he believes the United States and its allies could use as springboard to much tougher sanctions absent quick conciliatory gestures from Iran.

Watch analyst assess situation with Iran »
"See if we can leverage publicizing this additional illegal facility and activity to leverage the Iranians to begin to make some concessions and begin to abide by the U.N. Security Council resolutions," is how Secretary Gates framed the stakes for the negotiations that begin Thursday.

Watch report on Iran's missile tests »
State of the Union
John King reinvents Sunday talk: more time for more politics.
9 a.m. ET Sunday

By then, there could well be a new baseline in the health care debate.
Senate Finance Committee health care debate resumes Tuesday, and more liberal members will push to add a "public" option to the proposal put forth by Democratic Chairman Max Baucus.
'The underdog, but don't count it out," is how New York Democratic Sen. Chuck Schumer describes where the public option ranks among committee members.
As aside, he told a conference call the other day the Finance Committee is more conservative because of "an accident of history."
"I'll make a prediction," Schumer said on the same call. "We will get a good, strong, robust public option."
Not in the Finance Committee, if at all, is the prediction of others, including more centrist Democrats who aren't yet sold on the public option.
Don't Miss
In any event, "the real debate is within the Democratic Party," Sen. Evan Bayh of Indiana said on "State of the Union."
Other things sure to put a stamp on this week:
• Tuesday: The Supreme Court holds its "big" back from summer conference to decide what cases to add to the docket, and there are some interesting possibilities.
• Wednesday: The final GDP report for the second quarter will add fresh fodder to the debate over whether after another slump in Q2, the economy is clawing toward growth in Q3.
• Thursday: The new fiscal year begins, and a report on construction spending in August will focus attention on pocketbook concerns. The date offers an automatic point of contrast: It was on Oct. 1, 2007, that the DJIA closed at its all-time high of 14,087.55. (Plus the Iran talks)

• Friday: The September unemployment rate is released, and the question is whether it moves toward or away from double digits.
• Friday: Word on whether Chicago will be picked as host city of the 2016 Summer Olympics.

E-mail to a friend

All About Iran • Health Care Policy • Unemployment Rate • U.S. Supreme Court • Chicago