By Jacque Wilson
CNN





(CNN) -- Chris Rock is best known for two things: being funny and being crass.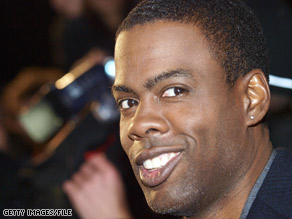 "If you're the president you only have two jobs: peace and money," Chris Rock said.
"This is what people come to see. I'm just doing my show," the comedian said with a laugh.
He's also known for his political commentary, but there's one person he's having a lot of trouble making fun of -- president-elect Barack Obama.
This is apparent in his new DVD "Kill the Messenger," which combines three shows from his international tour: New York; London, England; and Johannesburg, South Africa.
"It was a tour nobody wanted to do... because the general perception is that comedy doesn't translate," Rock said.
But thanks to the Internet, the world is a lot smaller than it was even 10 years ago. And people are digging the same jokes, he said, including ones about John McCain and Sarah Palin.
As the DVD readies for release on January 20, CNN talked with Rock about his lack of Obama jokes, Inauguration Day and why racism will never die. The following is an edited version of that interview:
CNN: I watched the special last night, and I noticed that you did a lot of jokes about John McCain -- his age, his war hero story -- but not so many about Barack Obama. Is it harder to make fun of Obama?
Chris Rock: He's just one of those guys, you know, like Will Smith. There's no Will Smith jokes. There's no Brad Pitt jokes. You know, what are you going to say? "Ooh, you used to have sex with Jennifer Anniston. Now you have sex with Angelina Jolie. You're such a loser." What do you say? "Ooh, your movies are big. You make $20 million." There's nothing to say about Brad Pitt.
CNN: Why is Obama like that?
Rock: It's like "Ooh, you're young and virile and you've got a beautiful wife and kids. You're the first African-American president." You know, what do you say?
CNN: As time goes on do you think it will get easier?
Rock: Of course, as time goes on. At some point he's going to -- there's always slip-ups. No one can survive that level of scrutiny without occasionally making it easy for a comedian.
CNN: Let's talk about the inauguration. Are you going?
Rock: No, I have to go to Sundance [Film Festival]. I've got a movie premiering at Sundance. So I have to go to the whitest place in America -- Utah.
CNN: What's it going to be like for you on Inauguration Day?
Rock: It'll be a cool day. It's weird. I've never watched an inauguration. I've never watched anyone get sworn in. You know, it's like Election Day and then you look up and somebody else is the president two months later. It was never like, "I can't wait till tomorrow. Oh my god! They're going to swear in Jimmy Carter!"
CNN: Are you going to watch this one, though?
Rock: I'll put it this way -- like any business is going to be getting done while this guy is getting sworn in. Like I'm going to be in a meeting. Everything is going to stop for however long it takes. Hope they get to it -- hope it's not like I gotta listen to three different versions of "The Star-Spangled Banner" or something. I hope it's not like Rosa Parks' funeral, where everybody f***ing speaks.
CNN: What are you hoping Barack Obama does for this country? What do you think is his most important task?
Rock: You know, if you're the president you only have two jobs: peace and money. That's it. I mean, it's like, what did Clinton do? We were at peace and we had a budget surplus. That's it. That's the gig. The closer you get us to those two goals, you know, that's pretty much the gig. Is that too much to ask for?
CNN: At one point in your act, you said, "Racism will never die. It will only multiply." Why do you believe that?
Rock: Well, it's never going to die. Maybe it won't multiply. Is racism going to end? No.
It's not even race. People are always going to, you know, find something wrong with people who are not the exact same as them. That's just what it is. Black, white, short, tall, religions, whatever. People are bad, man.
CNN: How was it different playing for an audience in Africa?
Rock: You know it's weird -- it really wasn't that different. I mean, that's why I love this special. People are the same wherever you go. And if they weren't, they wouldn't laugh at the same s**t. If they were so different they wouldn't know what I was talking about.
CNN: Stand-up comics I've talked to in the past say they like their shows to appear spontaneous. But your new DVD stitches together three shows, illustrating to the audience how scripted comedy can be. Why did you decide on that format?
Rock: You know, I don't believe in that "come up with stuff on the spot." I mean, honestly, that's why I think comedy, stand-up comedy, always plays such a back seat to music.
Like, would you go see a singer if you thought he just came up with the songs? They wouldn't give out Grammys for songs that they just came up with. You're going to go see someone at Radio City or Madison Square Garden, I think you'd like to know that they have an act before you spend $75.
So yeah, when you say "came up with it right there," that's really cute when you paid $8 to get in and two-drink minimum. When the ticket's $75, that's a whole other mindset.
E-mail to a friend

All About Chris Rock • Barack Obama