By Stephanie Chen
CNN





ATLANTA, Georgia (CNN) -- If you're a comedy fan, you've probably heard of him by now.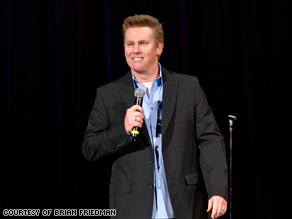 Comedian Brian Regan, 50, is famous for his clean jokes about everyday life. He is on tour.
Famous for his clean jokes about everyday life, comedian Brian Regan is at the peak of his career, gaining new followers with every performance.
On a recent Saturday night, he dazzled a sold-out audience of more than 2,000 people near Atlanta as part of his 2009 comedy tour. The easygoing 50-year-old comedian with a boyish smile and energetic presence pranced back and forth across the stage Saturday telling jokes that brought laughter to issues both serious and silly -- from the stressful economy to the quirks of text messaging.
Regan, a Miami, Florida, native, has been performing stand-up comedy since 1980 by starting at small venues and comedy clubs.
His breakthrough came in the late 1990s after the release of his album "Brian Regan Live," which sold 150,000 copies despite the comedian's relative obscurity at the time. The album featured simple routines that made fun of childhood memories such as Little League baseball games and seat belts. His witty, clean style of humor on the album, which resonated with a wide audience from college kids to grandmothers, catapulted him to success.
Since then, he has gone on to release three DVDs. Punchline Magazine, a comedy publication, named Regan's most recent DVD, "The Epitome of Hyperbole," one of the top five comedy DVDs of 2008.
Nowadays, he routinely appears on television, including specials on Comedy Central and slots on the "Late Show With David Letterman." His tour this year will visit more than 80 cities, nearly twice as many as four years ago.
CNN.com sat down with Regan to learn more about his brand of comedy and what's in store for the future.
CNN: How did you become interested in comedy and stand-up?
Brian Regan: This isn't the main reason, but when I was in college [Heidelberg College in Ohio], my name was Rip for Rip van Winkle. I had a 7 a.m. class, and I missed it almost every day. I would wake up and run across campus. I remember thinking, "What's going to happen if I don't wake up for things?" And then a comedian performed at our college, and I went to the show, and I noticed the show started at 8 p.m. and I was like, well, the hours are good. I can handle a job that starts at 8 p.m.
CNN: Who are some of your influences?
Regan: I love Steve Martin. He took silliness to a level of brilliance, I think.
CNN: How do you get your ideas?
Regan: I used to try and sit down with a blank piece of paper. I would stare at the paper, and it just continues to stay blank. I've learned that for me, it's easier for me to go out and live my life and do my thing.
CNN: You don't really use the crass language many comedians rely on. Is there a reason for that?
Regan: I don't really know those words [laughing]. I used to have a few jokes here and there with a four-letter word in it. I was always 90 to 95 percent clean with my jokes anyways, and I'm kind of anal so, why be 95 percent something when you could be 100 percent something? It worked out, and people really seem to respond to it so I guess that other 5 percent wasn't that important anyways.
CNN: Do you try to incorporate the economy into your jokes?
Regan: I do a few jokes about the economy but from an everyday person perspective. People like to laugh, and they especially like to laugh during difficult circumstances.
One of the best shows in New York I had was the week after 9/11. I was surprised this comedy club was even going to have a show. They said people were looking for a diversion. I went up and said I'm not trying to make light of what happened, I'm just trying to forget about it for an hour. I find it's similar to what is happening with the economy. Obviously, it's not as serious as 9/11, but people are looking for an escape. I think people want to laugh.
CNN: How can comedy help people through tough times?
Regan: I think comedy is a good way to deal with anything. I hear about people in the hospital who are ill, and they use humor to help them through it. I think it's a great remedy for many things.
They say a formula for comedy is comedy equals tragedy plus time. A difficult or uncomfortable situation takes place, and then you laugh about it later down the road. Sometimes I wonder if I could be so mentally healthy to subtract the time part. Like what if there is a flat tire, and it's raining outside? Instead of laughing a month later, why not laugh while you are changing tires in the rain?
CNN: Your fan base has really grown in the last five years. How does the fame feel?
Regan: It's been a slow gradual thing for me. I've never had a single event or television show that did it. I just pick up a couple more fans and a few more fans, and before you know it, it's like hey man, things are going OK.
CNN: What's in store for the future?
Regan: This is what I like doing, and I will hopefully do it forever. If something else comes along, I'd be open to that.
CNN: What about a television show?
Regan: I'm not really interested in being an actor. But I would like to get on a television show that would capture my comedy and in that role do a little acting. I'd like to do something that has to do with my comedy.
E-mail to a friend

All About Stand-up Comedy • Comedy Central