(Entertainment Weekly) -- Earlier this year, Michael Bay told EW about the day that "Transformers: Revenge of the Fallen" (opening on Wednesday) nearly fell apart. It was Sunday, July 27, 2008.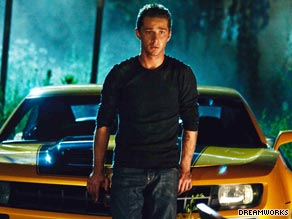 Shia LaBeouf is accompanied by his trusty Transformer pal in "Transformers: Revenge of the Fallen."
"I always look on CNN.com," says the filmmaker. "And there it was: Shia LaBeouf in a car crash. ... Oh, God. I read it and thought, 'No, this can't be true.' "
But it was. The 22-year-old star, who was about one-third of the way through shooting the sequel to Bay's 2007 hit "Transformers," had seriously injured his left hand in an early morning traffic accident in West Hollywood, California. While Bay was naturally concerned about LaBeouf's health, he also had a movie to finish.
With his leading man's cooperation, he moved decisively to keep from shutting down the production, and a bandaged LaBeouf returned to the set after just a few weeks -- against the advice of one of his doctors, the actor says. The screenwriters tweaked the script so that his character -- high school dork turned college dork Sam Witwicky -- gets hurt in a sort of teleportation device called a "space bridge."
LaBeouf agreed to postpone additional surgery on his hand until after the shoot wrapped in October, and he was outfitted with a custom-made hand cast designed to be both photogenic and superprotective. There had even been talk of replacing LaBeouf's hand with CG; Bay says it was ruled out as too expensive and "a pain in the neck."
Too expensive? Given the first film's $708 million global gross, that would have to be one hefty sum. Back on the set during filming, LaBeouf sat with costar Megan Fox and told EW the laundry list of things they'd blown up for the movie to that point. "A fish tank, a helicopter, concrete tubes. We blew up a library. This set you're looking at? This will all be gone."
Indeed, the buildings -- dressed up to look like an Egyptian village, which will later be intercut with IMAX location photography of a real town near the pyramids in Giza -- were constructed with charges built right into them. The pyramids are the site of the film's final showdown between the good-guy Autobots and bad-guy Decepticons, including the title character, a Lucifer-like figure actually called the Fallen. (Does that sound like it makes much sense? It probably doesn't need to; did we mention how many things explode?) EW: Megan Fox talks "Transformers" and more
Here are more EW Picks for the week of June 22:
"My Sister's Keeper" (out Friday). When director Nick Cassavetes received the script adaptation of Jodi Picoult's 2004 novel, about a family struggling to save a terminally ill child, the story hit him hard. Cassavetes ("The Notebook") had spent his daughter Sasha's entire childhood in and out of hospitals, managing her congenital heart disease. (She's now 21 and healthy.) "I've been down the road of the family in this story," he says. "So I thought it was something I could do soberly and elegantly." Cameron Diaz plays Sara, a mother driven to save her cancer-stricken daughter (Sofia Vassilieva), even if it means jeopardizing the health and sanity of her younger daughter (Abigail Breslin). Picoult fans have been up in arms since word got out that Cassavetes changed the book's shocking final twist. "I changed 'The Notebook's' ending, too," he remarks. And moviegoers forgave him for that.
"The Hurt Locker" (out Friday in select cities). To keep things as real as possible in this Iraq-set movie, director Kathryn Bigelow plopped her actors in Jordan, in 120-degree heat, at times near the Iraqi border. "Every day we were just trying not to pass out," says Jeremy Renner ("28 Weeks Later"), who spent much of his time attempting to act heroically from inside an enormous, bulky bomb-defusing suit. "I was trying to MapQuest my self-respect and dignity constantly." Read more about "The Hurt Locker"
TV
"Jon & Kate Plus Eight" (9 p.m. ET, Monday, TLC). On Thursday, the network released a teaser about a special one-hour edition, in which the Gosselins will "make an announcement," adding "We've made some life-changing decisions." Since then, reports of Kate having visited a divorce attorney and Jon apartment hunting in Manhattan have surfaced. Expect to be deluged with info on the fallout Tuesday morning.
More summer reality: "The Real Housewives of N.J." gather for a reunion special (9 p.m. ET, Tuesday, Bravo) no doubt filled with discussions of "bubbies" and "the book"; "America's Got Talent" (9 p.m. ET, Tuesday, NBC) commences its hunt for a stateside Susan Boyle; "NYC Prep" (10 p.m. ET, Tuesday, Bravo) attempts to prove "Gossip Girl" is exactly like real life; and "I'm a Celebrity ... Get Me Out of Here!" (8 p.m. ET, Wednesday, NBC) mercifully ends with one contestant leaving Costa Rica with big bucks for charity, if not their dignity. EW: Reality TV Central
"Hung" (10 p.m. ET, Sunday, HBO). Thomas Jane stars as Ray Drecker, a schlub on the skids: He's a failed pro athlete, now a bored high school coach. His 20-year marriage has ended. Oh, but there is one thing: Ray has a gigantic penis. After a one-night stand with a pleasantly neurotic poet (the excellent Jane Adams), she proposes that she become Ray's "pimp" in a woman-friendly "happiness consultant" business. EW's Ken Tucker says the show seems to cancel out its two audiences: Women may be turned off by its focus on the physical, and men may yawn because it's not explicit enough by HBO standards. On the bright side, Thomas Jane is a revelation -- he plays hopeless haplessness without coming off wimpy.
Music
"Far," Regina Spektor (out Tuesday). On a quirkiness scale, Regina Spektor ranks just above rainbow suspenders. On one "Far" song, "Folding Chair," she literally sings like a dolphin. But playing the freak also makes her blissfully unself-conscious, and that can be contagious. Nothing's more heartfelt than "Wallet," an ode to a stranger who lost his. Simple and elegant, it's the best song ever inspired by a Blockbuster card.
"Octahedron," The Mars Volta (out Tuesday). Those expecting another jolt of the Mars Volta's patented prog-metal-jazz-fusion are likely to be bemused, if not downright disappointed, by the band's relatively restrained new album. "Octahedron" is rife with hushed passages, acoustic filigrees, and dreamy vocals that herald either a radical retooling or, more likely, a period of transition for these experimentalists. But fans needn't feel too bummed: The lyrics remain as arcane as ever.
"A Man's Thoughts," Ginuwine (out Tuesday). The smooth-voiced singer recorded several of the most innovative radio singles of the 1990s in collaboration with the producer Timbaland, so the fact that he's working with his old pal once again is reason enough to take notice. Sadly, their long-overdue reunion resulted in only one track here. A handful of uptempo highlights aside, the rest of the disc turns out to be an unduly generous helping of syrupy bedroom pleas that'll have you wishing Ginuwine had decided to keep some of those "Thoughts" to himself.
DVD
"Waltz with Bashir" (out Tuesday). How's this for a tantalizing description: an animated documentary that explores Israel's 1982 war with Lebanon? Wait, "Waltz With Bashir" gets sexier! It's also in Hebrew with English subtitles! Rushing to add it to your Netflix queue yet? Well, you should be. Writer-director Ari Folman's best foreign-language film Oscar nominee is a haunting gut-punch about the fogginess of memory and the horror of combat. A feast for the heart and the eyes. Extras include Folman's fantastic commentary and a look at how they pulled off the groovy animatics.
For pop culture picks for today, click here, plus see what's new this week in movies, music, TV and more.
E-mail to a friend

CLICK HERE to Try 2 RISK FREE issues of Entertainment Weekly
Copyright 2009 Entertainment Weekly and Time Inc. All rights reserved.