(CNN) -- She hit the big time in the 1980's with Eurythmics and found huge success as a solo artist with her 1992 album "Diva", but for singer Annie Lennox, being able to express her passion has always been the motivating factor in whatever she's done.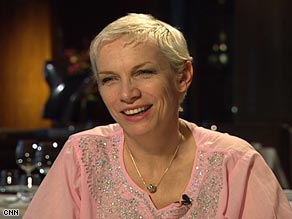 Annie Lennox will continue to SING with her AIDS awareness charity.
As a result her musical career has taken a back seat to her political activism and charity work in recent years; most notably with SING her AIDS awareness in Africa charity, as well as working with Amnesty, Save the Children and as a UNICEF ambassador.
Yet the 54-year-old maintains that she'll always keep singing as well as working on the other things that she feels passionate about.
"I'm a multi-tasker. I have to do a lot of things at once. I love music. And I want to keep making music. I hope that I'll always be a music-maker and I'll always be an activist," she told CNN in Hong Kong.
Growing up in Aberdeen, Scotland, Lennox found enormous success with Eurythmics and the 1983 album "Sweet Dreams" and single of the same name. It catapulted her to international success and stardom, something she had always wanted, but at first found difficult to adjust to.
"We were really on a whole kind of roller coaster with [Eurythmics], which on the one hand I was very grateful for, and on the other hand, it sort of sucked out your life, any sort of privacy," she said.
Show times
Wednesday, July 1: 13.30 GMT (20.30 Hong Kong)
Thursday, July 2: 04.00 GMT (11.00 Hong Kong)
Saturday July 4: 05.30, 15.30, 19.30 GMT (12.30, 22.30, 02.30 Hong Kong)
Monday, July 6: 03.00 GMT (10.00 Hong Kong)
Tuesday, June 7: 16.30 GMT (23.30 Hong Kong)

"Just the ability to be anonymous which I absolutely really value. I love to just to be mixing with people and not have to be the one person in the room with the spotlight and the heads all turning. So that was a little bit hard to adapt to...I might as well have a neon light for a head."

She's sold over 80 million records during a career that has spanned four decades, which she credits to hard graft fueled by an unending passion for music.

"The glamour side to it is what we see as the end result. But all the rest of it is hard work and dedication. And it's not easy always, you have to be very focused. And you have to be really, really motivated to do it. You have to have a kind of yearning, a passion for that.
Don't Miss
"I was never thinking, 'Oh, I'm in this for the long haul.' I just think as I'm still thinking, I want to have a life where I'm able to do the thing that makes me feel alive."
Aware of the downsides of a career in music, Lennox also has a greater sense of the perils and pitfall in life, something she has often expressed in her music.
"I have encountered individuals and I've encountered things in the industry that were vile. Bad things happen everywhere. And the music industry and all that surrounds it, is no exception.".

Having experienced unscrupulous people in the music industry and been through her own personal upheaval through two failed marriages, Lennox remain passionate, energetic and sanguine.
Ultimately, she says, "its all part of life's rich tapestry."
E-mail to a friend