By Alan Duke
CNN





LOS ANGELES, California (CNN) -- A Beverly Hills judge extended Lindsay Lohan's probation for a 2007 drunk driving conviction for a year to give her more time to complete a required alcohol counseling program.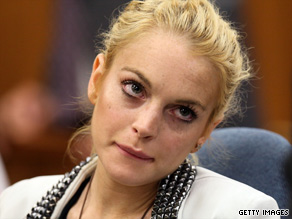 Lindsay Lohan attends a court hearing Friday in Beverley Hills, California.
Judge Marsha Revel ordered the actress-singer to appear in court Friday morning after she was notified by the program that Lohan was missing meetings.
Revel warned Lohan she would go to jail if she hears again that the actress has not been attending meetings.
Shawn Chapman Holley, Lohan's lawyer, said she had attended about half of the program sessions required, but her career kept her out of the state and the country for many of the meetings.
The judge said that while she wanted Lohan to have her career, she could not "thumb your nose" at the court.

Watch Lohan in court »
"This is the last time we are going to be talking about re-enrolling and doing what you need to do," Revel told Lohan.
Lohan sat quietly and listened, allowing her lawyer to do most of the talking to the judge. She did speak up to tell Revel she would be leaving Los Angeles this weekend to attend a charity event in New York.
The judge said any travel beyond 21 days that would cause her to miss meetings must be approved by the court. Revel said she wanted Lohan to personally appear so there would be no more "misunderstandings."
In March, the judge issued a warrant for her arrest when the court did not have updated information showing she was in compliance with the requirements of her three-year probation sentence. The warrant was dropped when her lawyer provided the information.
Lohan was arrested twice in 2007 on charges of driving under the influence, and in the second incident also was charged with cocaine possession.
The first arrest -- in May -- came after Lohan lost control of her Mercedes-Benz convertible and struck a curb in Beverly Hills.
Just two weeks after checking out of a Malibu drug and alcohol rehab facility, she was arrested again in July 2007 after a woman called Santa Monica police saying Lohan was trying to run her down with a car.
Lohan was sentenced to three years' probation after she entered guilty and no-contest pleas to the charges.
"I am rooting for you to successfully complete probation," Revel said Friday.
Lohan's acting career, which started at age 10 on a soap opera, took off on the big screen a year later when she played identical twins in Disney's "The Parent Trap."

Since then, she has starred in at least a dozen movies, including "Georgia Rule" with Jane Fonda in 2007.
Her pop music recording career, boosted by her movie roles, has faded recently. Her last album was released in 2005.
E-mail to a friend

All About Lindsay Lohan • Beverly Hills (California) • Drunk Driving