By Lisa Respers France
CNN





(CNN) -- Wrestling legend and reality TV star Hulk Hogan reveals in a new book that he would have committed suicide were it not for a surprise phone call, according to a story in the New York Daily News.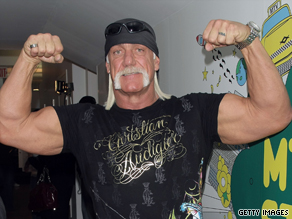 Hulk Hogan says a call from co-star Laila Ali saved his life.
Hogan, whose real name is Terry Bollea, credits boxer and "Gladiators" co-star Laila Ali with making the call that prevented him from taking his own life.
In his new book "My Life Outside the Ring," the former wrestler describes how he hit rock bottom after breaking up with his wife of 23 years, Linda, and coping with his son Nick's accident in which he lost control of Hogan's Toyota Supra.
The accident injured his son's friend, who is now brain-damaged, and led to Nick Hogan being jailed.
According to the story, the book documents Hogan's distress about his marriage ending, especially given the turmoil the family was experiencing after Nick's accident.
"I practically begged her, 'Please, don't file,' " the Daily News story quotes the book as saying. "Our son's just had this accident -- if we do this now, it'll make us look like the Britney Spears family. Please, don't file for divorce.'"
Hogan also says that his ex-wife is an abusive alcoholic who once threatened to beat their son with a wine bottle.
'Larry King Live'
In a prime-time exclusive, Hulk Hogan talks about the fascinating stories in his new book.
Tuesday, 9pm ET

Her behavior was not documented on their VH1 reality show "Hogan Knows Best," he said, because "There were plenty of times when Linda would lose it, but no one wanted to see that kind of ugliness on TV."
Hogan said Ali, the daughter of boxing great Muhammad Ali, prevented him from committing suicide after he had downed a cocktail of Xanax and rum. She called after noticing he had been looking distracted at work.
Hogan said in the book that he had reached for a gun and put his finger on the trigger when Ali called.
E-mail to a friend

All About Hulk Hogan • Nick Hogan • Linda Hogan • Reality Shows • Divorce