By Thom Patterson
CNN





(CNN) -- You know that line in "Dirty Harry" in which Clint Eastwood's Harry Callahan describes the power of the .44 Magnum? John Milius wrote that line.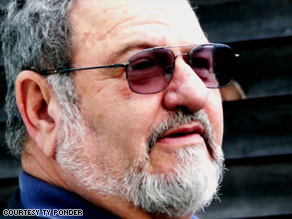 Outspoken conservative John Milius is not your average Hollywood screenwriter.
Remember the line in "Jaws" when Robert Shaw, playing the shark hunter, talks about his buddies being eaten alive by sharks during World War II? That was Milius.
How about the line in "Apocalypse Now," when Robert Duvall, playing a surf-loving Army colonel, says, "I love the smell of napalm in the morning"?
Milius again.
And he hasn't lost his bold way with dialogue -- including his own.
For example, here's Milius on stopping murderous drug traffickers in Mexico: "We need to go down there, kill them all, flatten the place with bulldozers so when you wake up in the morning, there's nothing there," he said in a phone interview. "I do believe if you have a military, you use it."
Or Rush Limbaugh: "I was watching Rush Limbaugh the other night, and I was horrified. I would have Rush Limbaugh drawn and quartered. He was sticking up for these Wall Street pigs. There should be public show trials, mass denunciations and executions."
And that's despite being identified as one of Hollywood's most outspoken conservatives. But Milius isn't all blood and thunder. As a surfer, whose surfing exploits as a teen helped to forge his self-sufficient world view, he's lent his gruff voice as narrator to a new documentary about surfing soldiers during the Vietnam War.
"Between the Lines" reveals a chapter of the war not widely known, outside the fiction of Duvall's character and his famous line, "Charlie don't surf."

How well do you know your movie lines? Take our quiz »
"One of the most poignant things of the film is how many California surfers went to Vietnam, and how many didn't come back," said Milius, 64, who learned to surf while growing up in Southern California.
"One of the reasons I put surfing in 'Apocalypse Now' was because I always thought Vietnam was a California war."
Instead of the cliche GI of World War II who hailed from Brooklyn and the Bronx and played stickball in the streets, Milius thinks of Vietnam's soldiers as having the laid-back attitude associated with the West Coast lifestyle.
"You had the guys hopping up their Huey choppers with new engine parts and painting flames on the rocket pods."
Milius' legendary lines
- "Apocalypse Now": "Charlie don't surf!"; "I love the smell of Napalm in the morning."

- "Jaws": "... the thing about the shark, he's got lifeless eyes, black eyes, like a doll's eyes."

- "Dirty Harry": "This is a .44 Magnum, the most powerful handgun in the world. It can take your head clean off. You've got to ask yourself, 'Do I feel lucky?' Well, do ya punk?"

- "Conan the Barbarian": "To crush your enemies, to see them driven before you and to hear the lamentations of their women."

Source: Internet Movie Database

Milius clearly loves surfing. He credits it with forging his most powerful friendships and uses it as a metaphor for life. As a lifeguard along California's treacherous Zuma Beach north of Malibu, Milius learned "to be a loner, because when you get planted by a big wave, there's no one who can help you," he said, audibly lighting a cigar. "Your fate is involved in a different universe."

The 1978 surfing coming-of-age film "Big Wednesday," co-written and directed by Milius, has become a respected classic in surfing culture.

"Apocalypse Now" has its own morality, said Milius. "It has its own rules."

That might also be said about Milius himself -- who displays what might be described as a larger-than-life personality. He's said to be the model for the character Walter Sobchak in the Coen brothers' "The Big Lebowski," an item Milius doesn't dispute.

"They told me they based that character on me," Milius said, adding that he had previously turned down the Coens' offer to appear in their film "Barton Fink" as a studio chief.

His self-image as a loner laid the foundation for his conservative politics. When his parents sent him off to a small private school in Colorado "because I was a juvenile delinquent," he learned to love the mountains, guns, hunting, tracking and "living off the land."

He's also used his experiences to create his scripts.

Milius' days in Colorado showed themselves in his screenplay "Jeremiah Johnson," the 1972 film starring Robert Redford as the lonely fur trapper and mountain man.

In 1984's "Red Dawn," Colorado is the battlefield where Americans fight a guerrilla war against Russian invaders. "We were promised, when I was growing up, this war with Russia," he said, explaining the film's legacy. "We were promised World War III."

His love of firearms -- he's a board member of the National Rifle Association -- helped inspire his "Dirty Harry" lines.

"I have a .44 Magnum, I love the .44 Magnum, in fact I still have the .44 Magnum that inspired that line," he said.

"The Second Amendment becomes more important every day," he added.

After marinating in the zeitgeist for 30 years, Milius' iconic movie lines have flavored American pop culture -- embraced by "The Simpsons," mocked on "Saturday Night Live" and spoofed in Hollywood comedies.

A lot of it is hard work, of course. But sometimes, as Dirty Harry might note, you just feel lucky. Robert Shaw's "Jaws" speech about how sharks attacked survivors of the torpedoed USS Indianapolis was written "literally over the phone," Milius said. "I gave it to them, and they went out and shot it." (Milius work on the film was uncredited; Peter Benchley and Carl Gottlieb are the credited screenwriters.)

And then there's the famous "napalm" line from "Apocalypse."

"I just wrote it -- it just came up," said Milius, describing the famous line uttered wistfully by Duvall's surfing Col. Bill Kilgore. "That's what happens. People love to think that all this stuff happens when you write a famous line -- that you really thought about it a lot."

Another famous line by Kilgore in the screenplay, "Charlie don't surf," is Milius' personal favorite. That line, he said was inspired by a published quote by Israel's Ariel Sharon during the 1967 Six-Day War.

A victorious Gen. Sharon went skin-diving after capturing enemy territory, Milius said, and declared, "We're eating their fish."

"That just really appealed to me," he laughed. "He was saying, 'We blew the s*** out of them, and now we're eating their fish.' Charlie don't surf."

Milius' latest project is a screenplay for a three-hour biopic of Genghis Khan, "the son of a hit man whose father is murdered and who went on to conquer the known world and become the greatest military and civil genius in history," as Milius described him. Production could begin in early 2010, he said.

Milius said Khan inspired another popular line, Arnold Schwarzenegger's list of a few of his favorite things in 1982's "Conan the Barbarian": "To crush your enemies, to see them driven before you, and to hear the lamentations of their women," goes the line.

That came right from the history books, said Milius.

"That's the most famous Genghis Khan line. It's a paraphrase of what he said when he was with his generals and he was asked what was the greatest thing in life," he said.

Although he admires a few scripts from modern-day Hollywood -- such as P.T. Anderson's "Boogie Nights," "Hard Eight" and "There Will Be Blood" -- most Hollywood scripts that get made today are "garbage," Milius said, written by "broken writers" with no "shame."

"There's no shame in the world, and without shame, you cannot have honor. Our world is ruled by consensus now. There is no sense of honor."

If that sounds like the lament of an outsider, Milius said it's probably because he feels like he's been treated like one through much of his career, given his reputation as a conservative and his opposition to gun-control laws.
"I've led a whole life behind enemy lines. I've been the victim of so much persecution," he said. "I'm the barbarian of Hollywood."
E-mail to a friend