By Alan Duke
CNN





(CNN) -- Mia Farrow ended her liquid-only fast aimed at calling attention to the crisis in Darfur after 12 days as her health took "a downturn," according to her publicist.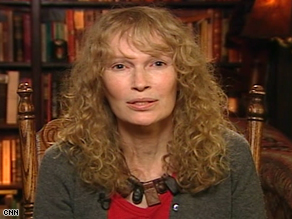 Mia Farrow's publicist says her "health has taken a downturn."
Farrow began her fast last month to call attention to the demand that "world leaders take immediate action and demand that international aid is restored" to Darfur, her publicist said.
The actress planned to fast for three weeks, but under doctor's orders she will hand off to billionaire entrepreneur Richard Branson, who will start his planned three-day fast a week early, said Jonathan Freedman.
"Over the last 12 days she has been fasting on only liquids in order to raise awareness for the horrible crisis unfolding in Darfur with the removal of 13 international aid agencies," Freedman said. "Mia's health has taken a downturn over the last couple days and her doctor has asked her to stop immediately."
On CNN's Larry King Live Tuesday night, Farrow said her doctor told her Monday she was healthy except for low protein.

Watch Farrow say why she began the fast »
"Ketosis or something like that," Farrow said. "Yes, but it's reversible."
Ketosis is a state in which the body burns its own fat for fuel and can "cause health problems, such as kidney failure," according to the medical Web site WebMD.
"I have low energy, but, strangely, it's kind of a spiritual journey," she told King.
In the interview, Farrow said she did not know if she would make it to three weeks.
"If I can get there, great," Farrow said. "If I can't, I will have done my best."
Sudan expelled 13 international aid agencies from the Darfur region after the International Criminal Court issued an arrest warrant for Sudanese President Omar al-Bashir on March 4.
The court accuses al-Bashir of complicity in war crimes and crimes against humanity in his government's campaign against rebels in Darfur, in western Sudan.

The United Nations estimates that 300,000 people have been killed and 2.5 million have been forced to flee their homes because of the conflict.
The arrest warrant for al-Bashir was the first for a sitting head of state by the world's only permanent war crimes tribunal, based at The Hague in the Netherlands.
E-mail to a friend

All About Mia Farrow • Richard Branson • Darfur