LOS ANGELES, California (CNN) -- The number of movies nominated for the best picture Oscar will double next year, a move apparently aimed at bolstering sagging ratings for the Academy Awards broadcast.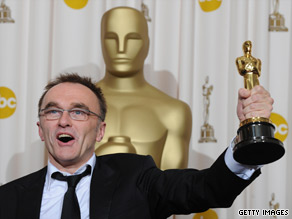 Danny Boyle exults in an Oscar win for "Slumdog Millionaire" earlier this year.
"Having 10 Best Picture nominees is going allow academy voters to recognize and include some of the fantastic movies that often show up in the other Oscar categories, but have been squeezed out of the race for the top prize," Sid Ganis, president of the Academy Motion Picture Arts and Sciences, said.
Doubling the nominations would make it more likely a viewer's favorite movie is in the running for the top honor, which may make them want to watch the show, said Steve Pond, author of "The Big Show: High Times and Dirty Dealings Backstage at the Academy Awards."
"This clearly is a reaction to declining ratings," Pond said. "Even though this last show the ratings were up ... over the last 10 years or so the ratings have been down."
Oscar producers realized they "can juice the show up all you want, but people watch the Oscars when there are movies competing that they have an interest in," Pond said.
The best picture nominations often consist of movies that "the vast majority of people have not seen," he said.
The problem "came to a head with 'The Dark Knight,' " which sold more than $1 billion in tickets worldwide, but was snubbed by the academy in the best picture category last year, he said.
The Batman sequel won best movie at the MTV Movie Awards and was chosen favorite movie by the People's Choice Awards. It also made many critics' top 10 lists.
If the nomination field had been expanded last year, the film might have made the best picture list, "which clearly would have been some kind of bump in the ratings," Pond said.
This would also counter the impression among TV viewers that the awards show is "for movie snobs who don't like the movies I like," he said.
The decision to double the number of features films nominated is a return to the way the Oscars were awarded in its early decades, when as many as 12 movies were considered in the field of finalists, Ganis said.
"After more than six decades, the Academy is returning to some of its earlier roots, when a wider field competed for the top award of the year," Ganis said. "The final outcome, of course, will be the same -- one best picture winner -- but the race to the finish line will feature 10, not just five, great movies from 2009."
Nominations for the 82nd Academy Awards will be announced on February 2, 2010. The awards show is set for March 7 at Hollywood's Kodak Theatre.
A best picture nomination often serves as a marketing boost for films, driving DVD sales for those films no longer in theaters.
E-mail to a friend

All About Academy Awards • Movies