By Olivia Allin






(The Frisky) -- Vince Vaughn got engaged to Canadian realtor Kyla Weber on Valentine's Day this year, but before you get all giddy with romantic cliches, he told Ellen DeGeneres that he picked that particular day so he'd never forget the date.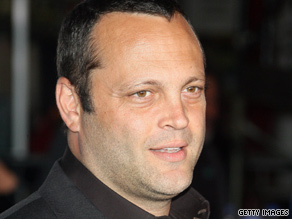 Vince Vaughn said he picked Valentine's Day to propose so he wouldn't forget the date.
"Valentine's Day rolled around and I figured this is not a ship to be missed," he said, before spewing out some more Shakespearean prose. "[It] worked out great because it would have been kind of weird to have talked about [getting engaged] and then skipped Valentine's Day as if who knows when this thing is coming."
Be still, my heart. Fortunately, some famous men have more of a romantic streak. Read on for some actually sweet celebrity proposals!
The Frisky: Celebrities who tweet from their sickbeds
1. We knew Seal was destined for romantic greatness when we were 12-year-olds, slow-dancing to "Kiss From a Rose." But his proposal to Heidi Klum shattered all expectations. Seal picked his girl Heidi up in a helicopter and brought her to the top of a 14,000-foot glacier in Canada, where he had an igloo built for the occasion. Heidi describes, "They'd brought up everything: a bed with sheets inside the igloo, rose petals everywhere, candles. Very, very romantic! There was food and champagne, and then the helicopter left. It was a little scary, too, because you're so cut off from the world. No trees, nothing -- it was hardcore. But I was ecstatic."
The Frisky: What do pregnant models look like?
2. I have a major relationship crush on Christina Aguilera and music exec Jordan Bratman. They just look so overjoyed all the time! Bratman proposed to Christina in a hotel room in Carmel, California, where he'd stuffed the room with rose petals and gift boxes, each containing a present and a poem he'd written for her. The last box had a five-carat ring inside and when she opened it, Bratman got down on one knee to propose. Le sigh.
The Frisky: Celebs who went to fashion rehab
3. Tom Cruise's proposal was pretty cliche, but Tom still wins for being jump-on-a-couch-in-love with Katie Holmes. He proposed on the top of the Eiffel Tower in Paris after a candle-lit meal at the Tower's fancy restaurant, Le Jules Verne. At a press conference the next morning, Tom said, "Today is my favorite day in my entire life. ... I'll never forget this day. Ever." It doesn't get much more enthusiastic than that.
The Frisky: The tardiest celebs in Hollywood
4. Not everyone's a huge fan of Tori Spelling's hubby Dean McDermott, but his proposal was pretty idyllic. He brought Tori in a horse-drawn carriage to a Christmas tree farm in Toronto on Christmas Eve. When they arrived, there was a romantic table laid out and surrounded by decorated Christmas trees, where he proposed. Oh, to live inside a Lifetime Christmas special!
E-mail to a friend

TM & © 2009 TMV, Inc. | All Rights Reserved
All About Vince Vaughn • Tom Cruise • Seal (Musician) • Dean McDermott • Jordan Bratman