By CNN's Paul Armstrong





LONDON, England (CNN) -- British singer-songwriter John Martyn has died in hospital in The Republic of Ireland at the age of 60.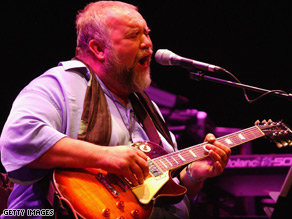 John Martyn performing in September 2006 at The Barbican in London, England.
Martyn, who was born in southern England but raised in Glasgow, was best known for his laconic style and innovative, folksy sound.
A statement on his Web site Thursday said: "With heavy heart and an unbearable sense of loss we must announce that John died this morning."
No other details were given.
Despite never really achieving mainstream success, many of his albums -- such as 1973's "Solid Air" -- were considered classics. He was also revered as an influence on the careers of many other musicians such as Eric Clapton -- who he also worked with -- Beth Orton and U2.
Martyn also fought a long battle with alcohol and drugs, and confessed on his Web site to "pressing the self-destruct button" after the break-up of his first marriage in the late 1970s.
Despite the rock n' roll excesses, he continued to experiment with his music -- most notably with electronic guitar effects -- and produced a total of 20 studio albums.
Those who attended many of his live performances over the years often witnessed moments of musical genius punctuated by drunken antics and incoherent rambling.
"If I could control myself more, I think the music would be much less interesting," Martyn once told Q magazine. "I'd probably be a great deal richer but I'd have had far less fun and I'd be making really dull music."
In 2003, Martyn had to have his right leg amputated below the knee after a cyst burst. Undeterred, he continued to perform in a wheelchair after that.
Martyn was awarded an OBE in Britain's 2009 New Year honors list.
E-mail to a friend