By Denise Quan
CNN





LOS ANGELES, California (CNN) -- Most musicians don't like doing interviews at their homes. It's much too private. Stevie Nicks, however, has no problem inviting journalists to her big colonial house in Pacific Palisades, half a mile above the California coastline.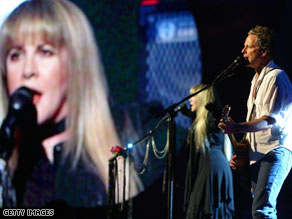 Fleetwood Mac is back on the road with Stevie Nicks and Lindsey Buckingham, shown performing in 2004.
"It's just easier," she confides.
Perhaps that's true. But after three decades in the public eye, she really has nothing to hide. Fans know all about her fabled history with Fleetwood Mac -- in particular, her tumultuous relationship with the band's prodigal guitarist, Lindsey Buckingham.
Even hovering around age 60, they are yin and yang. Buckingham is spirited and hot -- in sharp contrast to Nicks' eternal cool. The tension that fueled such songs as "The Chain," "Dreams" and "Go Your Own Way" in the late '70s is still palpable -- and they seem to return to it instinctively, like muscle memory.
But these days, there's also a certain acceptance and understanding.

Watch the pair talk about life, love and the band »
Along with bandmates Mick Fleetwood and John McVie, Buckingham and Nicks are back on the road with Fleetwood Mac for their first tour in five years. It's a celebration of their greatest hits, as well as 30 years together as a group. During our interview, Buckingham and Nicks reminisced about how their rocky relationship became immortalized in their music -- while Buckingham's wife Kristen snapped photos six feet away.
CNN: This is the first Fleetwood Mac tour in five years.
Stevie Nicks: We don't like comebacks. We don't make comebacks. We're not making a comeback. We never went away.
Lindsey Buckingham: Every time we get together, it's like a whole new group of people.
CNN: Is Christine McVie still sitting this one out? (The singer/keyboardist retired from Fleetwood Mac in 1998.)
Nicks: Christine would rather be skinned alive and fed to the sharks. She doesn't want to do it anymore. It's kind of like when someone breaks up with you and you see that look on their face like, "It's really over?" For Christine, it's really over.
She doesn't want to fly. She never told us she used to get panic attacks, because she's so brave. And if you don't fly, that means the bus. So that was it for her. We cannot replace Chris.
CNN: Wasn't there talk about Sheryl Crow filling in at one point?
Buckingham: It was considered. I think what happened was Sheryl kind of took it upon herself to announce that she was joining Fleetwood Mac, and nothing had ever really been decided.
Nicks: I would like to say something in Sheryl's defense. Sheryl had the chance. She and I are really good friends. When I told her how difficult Fleetwood Mac was -- it's like being in the army -- once you sign up for Fleetwood Mac, you have no life, you have no opinion.
And I said, "So understand what you're signing up for." And she said, "Are you trying to talk me out of this?" And I said, "No, I'm just telling you the truth about what it is to be in this band, and honey, you've got to really think about it." And she called me back and said, "I think you're right. I think I'm going to pass."
Buckingham: On a business level, or on a marketing level, it might have made sense to bring someone in. But when you contemplate going out there and doing some songs of Christine's that we are going to do this time, to me, there was the potential of making it a bit loungey -- having someone come in and do her songs. I think we are better served to interpret them in new ways ourselves, and in a way that resonate[s] with our own history.
CNN: People have always been fascinated by the dynamic between the members of Fleetwood Mac. You guys lived together, worked together, wrote songs about each other and dated each other.
Buckingham: I think if the media (paparazzi) had existed in 1977 when we were going through break-ups within the band and still moving forward on a professional level, the tabloidism that exists today would have probably eaten us alive.
Nicks: Let's use Britney Spears as an example, poor little thing. In our day, I think that the audiences revered their rock stars -- and I say that with all respect -- that our audiences cared about us, and took care of us and would never have put us under that kind of danger. I would have been a very unpleasant star if people treated me the way people treat the kids that are out there now. If I had to feel that somebody was waiting for me every time I came out, I would never leave the house. I hardly leave the house, as it is!
CNN: In the '70s, you guys were going through your own troubles with drugs and alcohol. Now it seems as though that always makes the front page of the tabloids, especially with young Hollywood.
Buckingham: At the time that we were doing that, that subculture existed sort of across the board, I think. Generally speaking, rock-and-roll bands were conducting their personal lives in a such a way that was a reflection of what they thought they had to do in order to be creative. That was sort of a holdover from the '60s in the sense that you needed to experiment -- and that was an illusion, obviously, because it eventually hit the wall, and we all had to re-evaluate the way we were behaving and conducting our lives. And you know, in that sense, we're survivors.
CNN: What do you think about, Stevie, when you are out there on stage and you hear "Go Your Own Way?" Does it bring back memories of what you were going through at the time -- because that song was about you, wasn't it?
Nicks: I think.
CNN: Lindsey?
Buckingham: Indeed, it was. Yeah, completely autobiographical. You know, the funny thing was I don't think we were aware we were writing songs specifically to each other. It was really only when our audience picked up on it that it became obvious we were dealing with a completely transparent, autobiographical piece of work.
Nicks: If Lindsey and I had been happy, happy, happy, there would have been no "Go Your Own Way." It would have just been, "Here we are -- happy, happy." And the audience would have been like, "OK, well -- next couple."
So you know, we played off of it. We had fun with it. We could actually walk on stage and have our own little almost-love affair, and have the audience go, "Oh my God! They're getting back together!" And we'd be like, "They're falling for it!" You know, we would totally play it, and we did, and we do, and we always will.
CNN: Why do you continue to do this? Because you could just sit in your beautiful house in England, like Christine, and not have to worry about any of this.
Buckingham: That's a very interesting question. I think there are chapters yet to be written within this group. Look at Stevie and myself. We have known each other since we were in high school.
Nicks: 16 and 17.
Buckingham: And it's been a convoluted road, you know. It's been a great road, and often painful for both of us. We have been extremely close, we have been alienated. It's a road of contrast. But there are still things to be learned, and still things to be shared, and still a certain amount of growing up to do in the never-ending quest to become adults.
CNN: You both recently completed solo projects. Lindsey, you have your solo album, "Gift of Screws," and Stevie, there's an upcoming CD and DVD ("The Soundstage Sessions" and "Live in Chicago," respectively).

Nicks: We've been lucky. You do Fleetwood Mac, and then you work on your own stuff, and then you do Fleetwood Mac and then you work on your own stuff. As much as I love my solo work, I'm a little bored with it, so I can put that away in its magical box and I can go straight into working with three of my favorite people in the whole world.
Fleetwood Mac is bigger than anything Lindsey and I solo-wise will ever do. I never rented a 737 jet for my solo tour. So now we get to be grand, and at the end of the tour, it's kisses for everybody and goodbye. Go do your own thing, and we'll meet up again in two or three years.
E-mail to a friend

All About Fleetwood Mac • Sheryl Crow • Celebrity Break-ups