By Shanon Cook
CNN





NEW YORK (CNN) -- So far it has been a very sunny summer for newbie pop singer Kristinia DeBarge.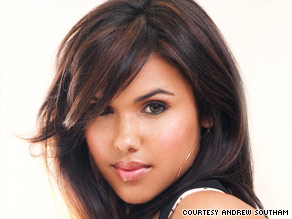 Kristinia DeBarge has broken through with the summer hit "Goodbye."
She has a Top 20 hit with "Goodbye," a peppy pop number which borrows from Steam's 1969 stadium anthem "Na Na Hey Hey Kiss Him Goodbye."
The energetic video just earned DeBarge an MTV Video Music Award nomination in the best choreography category. And later this month the 19-year-old will demonstrate her dance skills as the opening act for Britney Spears' global "Circus" tour.
The L.A.-based singer is well connected in the music business: she's the daughter of James DeBarge, a member of the '80s R&B group DeBarge. Her debut album, "Exposed," dropped last week, and was produced by Kenneth "Babyface" Edmonds.

Watch DeBarge tell her subject "Goodbye" »
Kristinia DeBarge (pronounced Kristi-NEE-ya) dropped in to CNN to talk about why her dad initially wanted her to follow a different career path, her different personalities and lip synching. The following is an edited version of the interview.
CNN: Your dad must have a wealth of advice for you.
Kristinia DeBarge: Yes he does. His advice is stay true to yourself. He's also told me many times that I should have a lot of strength in this business, and that I'm going to need my family around me.
CNN: He didn't want you to go into music, did he?
DeBarge: No, because he knows how the music industry is. And some people can become a little jaded and tainted after. So he likes that I'm innocent and wants to keep that innocence fresh.
CNN: What did he want you to do?
DeBarge: Something like be a doctor or a veterinarian or a lawyer. I totally admire all those jobs. ... But it's not my passion. My passion is singing, so if I was to do those things I wouldn't be happy because I'd be like, what a waste of talent. I'm a singer.
CNN: You were on the "American Idol" spin-off show "American Juniors" in 2003. What was that experience like?
DeBarge: I had a lot of fun. I met a lot of different people on the show who are pursuing not only music but acting and modeling and all that fun stuff. It was really cool to interact with the kids my age because we were all there inspiring each other.
CNN: What do you like about working with Babyface?
DeBarge: I like that he's so down to earth and he's open-minded. He's open-minded in the sense where he allows me to have a lot of input on my music. He allows me to write with him and then bring in other writers and other producers. ... He's like another dad to me. He's very protective and sweet.
CNN: Whose idea was it to borrow from Steam?
DeBarge: The producers and the songwriters. ... And I was like gosh, what a great idea. Maybe I could take over the old version that's playing at basketball games and the hockey games! Even for people who don't really like pop music ... they can listen to that song and sing along to it.
CNN: Tell me a little bit about your album.
DeBarge: I named it "Exposed" because I feel that in introducing myself to the world you're getting to know Kristinia from all angles. So you're going to get to know all different characteristics and personalities that she has.
CNN: Does she have many personalities?
DeBarge: Sometimes, but they're good. They're good personalities. She's just like everyone else.
And that's also something that I want to make clear on the album -- that I'm very normal and I experience all of the same things that 19-year-old girls go through. ... It's my first album and I'm hoping that everyone from little girls to older women will really be able to relate to it.
CNN: Are you excited about being one of the opening acts for Britney Spears?
DeBarge: Yes, I'm really excited about that. ... She's a great performer and entertainer and I think that she has so many fans and so to gain her fans is going to be great for me. And I mean the fact that she even approved of it is great.

CNN: What are your thoughts on lip-syncing?
DeBarge: I would say that I understand it, but if you're a vocalist it's good to sing. ... I love to perform. I also like to sing. [When I performed on] "So You Think You Can Dance" I sang and I was dancing, so a lot of people were like "Is she lip-syncing?" But I was really just singing as well. It's really hard to do. People think it's a lot easier than it is.
E-mail to a friend