NEW YORK (CNN) -- Late-night talker David Letterman married his longtime girlfriend, Regina Lasko, last week, according to a transcript of the taping of his Monday night show.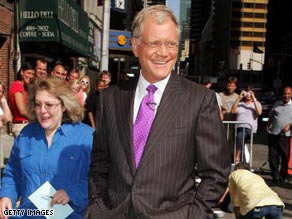 Late-night host David Letterman says he "avoided getting married for ... 23 years."
The wedding was at the courthouse in Choteau, Montana, on Thursday, he said, according to quotes from CBS' "Late Show with David Letterman" provided to CNN by Letterman's publicist, Tom Keaney.
"Regina and I began dating in February of 1986, and I said, 'Well, things are going pretty good, let's just see what happens in about 10 years ... ," he joked during the taping.

Watch Letterman spill the beans »
"I had avoided getting married pretty good [sic] for, like, 23 years, and ... honestly, whether this happened or not, I secretly felt that men who were married admired me -- like I was the last of the real gunslingers."
Lasko is a former "Late Show" staffer. The couple have a son, Harry.
Letterman told his audience that the wedding almost didn't happen after the couple, son in tow, got their pickup truck stuck in the mud on the way to the ceremony.

"So I get out of the truck and I walk two miles back to the house into a 50 mph wind. It's not Beverly Hills, it's Montana, for God's sakes,' " he said. "And the whole way, I'm thinking, 'See, smartass? See? See? You try to get married, this is what happens.' "
When he returned with a car, he said -- presumably joking -- that his son was disappointed, "because mom had told him if I wasn't back in an hour, the deal was off."
E-mail to a friend

All About Marriage • David Letterman