By Alan Duke
CNN





LOS ANGELES, California (CNN) -- AT&T confirmed that "a few local AT&T employees" who were "caught up in the enthusiasm" of "American Idol" helped drum up votes for "Idol" winner Kris Allen in his home state of Arkansas.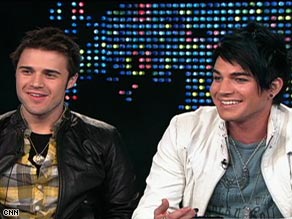 Kris Allen, left, defeated Adam Lambert, right, in the "American Idol" finale.
However, Fox Broadcasting and the show producers said they were "absolutely certain" that Allen was the winner, despite any boost he might have had from employees of one of the show's major sponsors.
"In no way did any individuals unfairly influence the outcome of the competition," said a joint statement from Fox, FremantleMedia North America and 19 Entertainment.
Some fans of runner-up Adam Lambert hit the message boards hard in recent days, suggesting a corporate conspiracy might have robbed their favorite singer of the Idol title.
The controversy spread after the Arkansas Democrat Gazette -- a Little Rock, Arkansas, newspaper -- reported that local AT&T representatives helped Allen fans at two Arkansas viewing parties cast 10 or more AT&T text message votes at one time through "power texts."
"American Idol" rules say votes made through "technical enhancements" could be thrown out, if detected. Blog: Did 'Textgate' make a difference?
AT&T issued a statement Wednesday acknowledging what was reported, but saying it was not condoned by the company.
"In Arkansas, a few local AT&T employees were invited to attend two local watch parties organized by the community," it said. "Caught up in the enthusiasm of rooting for their hometown contestant, they brought a small number of demo phones with them and provided texting tutorials to those who were interested."
Since the final count is a secret, there is no way to know if text-message votes cast at the two parties in Allen's home state made a difference in the outcome.
The network and producers gave their answer Wednesday.
"Fox and the producers of 'American Idol' are absolutely certain that the results of this competition are fair, accurate and verified," their statement said. "Kris Allen is, without a doubt, the American Idol."
"We have an independent third-party monitoring procedure in place to ensure the integrity of the voting process," they said. "In no way did any individuals unfairly influence the outcome of the competition."
AT&T, which sponsors the talent competition and provides the text and phone system for voting, said it was taking measures to avoid such an embarrassment next season on "American Idol."
"Going forward, we will make sure our employees understand our sponsorship celebrates the competition, not individual contestants," the company said. "That said, it's quite a leap to suggest that a few individuals could have impacted the final results."
"Idol" watchers used text messages and phone calls to cast 100 million votes for either Allen or Lambert last week, an AT&T spokesman said.
E-mail to a friend

CNN's Denise Quan and Marc Balinsky contributed to this report.
All About American Idol • Kris Allen • Adam Lambert