By Todd Leopold
CNN





(CNN) -- They feature characters such as hat-wearing cats, very hungry caterpillars, nice girls named Madeline and naughty boys named Max.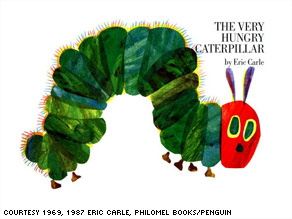 "The Very Hungry Caterpillar" by Eric Carle turns 40 this year, and 29 million copies of it have sold since 1969.
Parents read them to their children, forming a powerful bond. Years later, those former children read these children's picture books to their children, and the thread between generations is extended yet again.
"Children's books live a long time because you always have children growing into them," says Pat Scales, president of the Association for Library Service to Children and a retired school librarian. "And parents read [to their children] what was read to them."
The making of a classic is a strange alchemy of skill -- a good story, strong illustrations -- and luck. It's not easy to appeal to three audiences: publishers, parents and -- oh, yes -- children.
Dr. Seuss' first children's book, "And to Think That I Saw It on Mulberry Street," was rejected by more than 25 publishers before Vanguard Press put it out in 1937.
Maurice Sendak's legendary "Where the Wild Things Are" (1963), though recognized with the Caldecott Medal -- the highest honor for a picture book -- was controversial for its drawings of monsters and its mischievous hero, Max.
Don't Miss
But almost all classics share some characteristics, says Alida Allison, a San Diego State University English professor and member of that California school's National Center for the Study of Children's Literature.
"Every one of them ... has the same reassuring pattern of 'home, away, home,' " she says. "The basic plot begins with a happy family situation. Then one extremely curious or transgressive child goes out on his or her own. And, no matter how 'bad' the child has been, he gets to come back home."
The child is welcomed back to the family and often gets something to eat, she adds. (One exception: Seuss' "Mulberry," in which the adult condemns the child's sense of wonder -- but then, she adds, "Dr. Seuss is in a world of his own.")
The plot isn't just reassuring to children, she points out, but also reinforces the lessons of good parenting.
"If you think of all those stories, there's a loving parent ... allowing a transgressive kid a leash to investigate the world and come back," she says. And through the child's eyes, parents find their sense of wonder renewed, she adds.
For children, it's all new -- the colors, the wordplay, even the plot -- and the more variety, the better.
A child may be attracted by the rudimentary drawings of Eric Carle's "The Very Hungry Caterpillar," the elasticity of Seuss' cats, Grinches and Oobleck, or the rich, almost otherworldly paintings of Chris Van Allsburg's "The Polar Express."
And the language: Margaret Wise Brown's "Goodnight Moon" may seem to be nothing much, but it's as peaceful as a lullaby, Scales observes.
And nothing succeeds like a book that has found its way into a child's heart. "We know that kids return to their favorite books over and over again," Scales says.
And then, of course, the story starts from the beginning.

Allison, a published author herself, read a variety of books to her children when they were growing up: Dorothy Kunhardt's "Pat the Bunny," Russell Hoban's "Frances" books. But at least one title earned its way into the rotation because of an older fan: Allison's husband.
"One of my husband's favorites growing up was 'The Pokey Little Puppy,' " she says of the 1942 Little Golden Book by Janette Sebring Lowrey and Gustaf Tenggren. "So he read that to our sons."
E-mail to a friend

All About Children's Books • Dr. Seuss