(CNN) -- The England and Wales Cricket Board have confirmed they have terminated all contractual links with Sir Allen Stanford -- the Texan billionaire charged with an alleged nine billion dollars fraud by the Securities and Exchange Commission.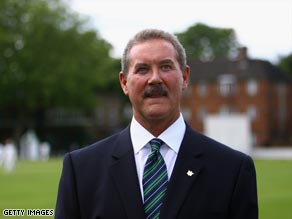 The English Cricket Board have now formally terminated all negotiations with Sir Allen Stanford.
All negotiations between the ECB and Stanford were immediately suspended when the news broke on Tuesday -- and the governing body has now formally announced they will not play any further Stanford Twenty20 matches in Antigua as well as shelving plans for the Quadrangular Twenty20 events, which were due to start at Lord's in May.
ECB chief executive David Collier told PA Sport. "The ECB was shocked by the charges filed against the Stanford organisation and personnel earlier this week.
"Within minutes of the announcement, ECB determined to suspend any further discussions with Stanford and the board has now agreed to terminate the ECB's agreements with Stanford."
Don't Miss
Under the deal struck between the ECB and financier Stanford last summer, England were due to play four further $20 million matches in the Caribbean, while the proposed Quadrangular events were scheduled to take place annually from 2009 to 2011, with each edition worth around $9m.

However, Collier has reiterated that the termination of that particular revenue stream will not affect the funds made available to English county sides this year.
"Given the uncertainty of the financial markets and the sponsorship dispute between Digicel and the West Indies Cricket Board over the matches in Antigua in 2008, the Executive Committee and board, when setting the 2009 budgets, took a prudent position in creating a contingency in case the Antigua matches did not proceed," Collier said.
E-mail to a friend