(CNN) -- World record holder Paula Radcliffe has been ruled out of next month's London Marathon after organizers revealed the Briton has suffered a broken toe.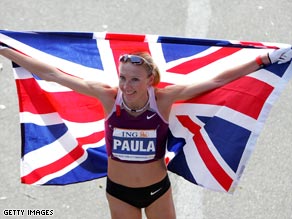 A toe injury means Radcliffe will miss out on the chance of a fourth London Marathon victory.
Radcliffe, who was bidding to win the race for a fourth time on April 26 after victories in 2002, 2003 and 2005, injured her right second toe while training in Albuquerque, New Mexico on Tuesday.
Race director Dave Bedford told PA Sport: "This is a major blow for Paula. I know how much she wanted to run here this year but luck just does not seem to be on her side.
"Paula's priority must now be to get fully fit hopefully for the world championships and we wish her all the best for a speedy recovery.
"Even without Paula, however, the elite women's field for April 26 is still one of the strongest we've ever had in London and I am sure the race will be a superb spectacle.
"We've got five of the first six from the Olympic marathon competing and given that strength in depth, it would have been no certainty she would have won," added Bedford.
The 35-year-old Radcliffe, who has twice previously been forced to miss the London race because of injury, was looking to equal Norwegian Ingrid Kristiansen's record of four victories in the 1980s.
But she will now be aiming to make a quick recovery and not be involved in a race against the clock for the world championships in Berlin in August, after her fight to be fit for the Beijing Olympics ended with her finishing in a disappointing 23rd place.
E-mail to a friend