CNN





LONDON, England (CNN) -- The future of the 33rd America's Cup remains uncertain after a New York Court of Appeals ruling Thursday supported the position of U.S. syndicate Oracle in their legal battle with holders Alinghi.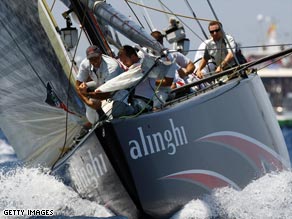 Loss off the water: Alinghi has had an earlier ruling in its favor overturned by a New York appeal court.
The court's verdict overturns a ruling last year that supported Spanish club, Club Nautico Espanol de Vela, as the official challenger, and instead instates the Golden Gate Yacht Club the challenger of record.
The decision means the next regatta for the Auld Mug could be decided by a best-of-three duel involving large multi hull boats as proposed by Larry Ellison's Oracle syndicate.
Oracle, however, is understood to be keen to negotiate a traditional regatta with Alinghi. The court in its ruling called upon Oracle to talk with Swiss holders Societe Nautique of Geneva to settle the event format.
The court found Club Nautico Espanol de Vela was not eligible to be a true challenger because it did not meet all requirements of a challenger.
Oracle's successful argument noted a provision in the rules that says a club's annual regatta must be staged at sea. The Spanish group had not staged a race at sea and therefore was judged to be an ineligible challenger of record.
Ahead of final legal presentations before the court in February, Oracle leader John Kostecki had been confident of a legal victory.
"Golden Gate and our racing team expect to win," Kostecki said. "We look forward to a negotiation for a multi-challenger America's Cup 33 and getting back on the water as soon as possible," AFP reported.
MainSail special
Discover incredible super-yachts and get your sailing fix!


The new ruling leaves not only the format but also the dates for the next America's Cup unknown.
Alinghi had Wednesday announced America's Cup "pre-regatta" race dates on its Web site for this July and October -- however it is not known if these will remain in light of the court ruling.
The Cup regatta was initially planned for Valencia this year, but was cancelled due to the ongoing court battle.
E-mail to a friend