(CNN) -- Rahul Dravid broke Mark Waugh's record for most catches in Test cricket as India set New Zealand a massive win target of 617 to level the series at Wellington.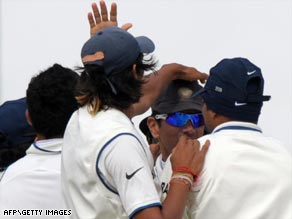 Rahul Dravid, second right, is congratulated after breaking the record for most catches in Test cricket.
When bad light ended play almost an hour early on the penultimate day, New Zealand had struggled to 167 for four wickets -- with predicted bad weather their only hope of avoiding a second defeat
Dravid contributed to their misery when he took a low catch at third slip to dismiss Tim McIntosh for four off Zaheer Khan having started the day level with Waugh on 181.
The veteran Indian claimed another catch to remove Jesse Ryder without scoring off the bowling of Harbhajan Singh to extend his haul to 183 catches.
"We've advised him to keep the ball because it's a bit of an achievement," said Yuvraj Singh. "He took a great catch to have the highest catches in the world.
"It's a great feeling for him. He's been there for more than 13 years now. He's been outstanding as a batsman and in the slips cordon."
The Black Caps still hope to deny India who had declared at 434 for seven midway through the morning session on day four.
"You can't pray for rain or you can't expect rain to get you out of a sticky situation," said New Zealand vice-captain Brendon McCullum.
"I think, for us, if we find ourselves waking up in the morning with a big blue (sky) overhead then we've got a fight on our hands and that's something we've got to stand up to.
"We've got to believe we can (save the Test). We obviously haven't found ourselves in the ideal situation but tomorrow's an opportunity for guys to stand up and show some character.
"If we can get out of this Test match with a draw, while it's not the desired result and we know we won't win the series or even level it, we have shown some character and that should stand us in good stead going forward."
New Zealand's top order has struggled throughout the series and aside from Martin Guptill's 49 -- his highest score in Test cricket -- failed to fire again today as they slumped to 84 for four midway through the afternoon session.
"Being bowled out for 200 (in the first innings) left us in a pretty tough situation in the game and I guess the top order will be bitterly disappointed they missed out again today," McCullum admitted.
Indian tactics after tea helped the Kiwis cause as the tourists appeared to take their foot off the gas, allowing the home side to almost double their score without losing another wicket.
"I didn't work out their strategy after tea or this morning," said McCullum, referring to MS Dhoni's decision to push on beyond 600 runs before declaring.
E-mail to a friend