(CNN) -- Lance Armstrong could face punishment after being accused by the French anti-doping agency (AFLD) of breaking its rules during an unannounced test last month.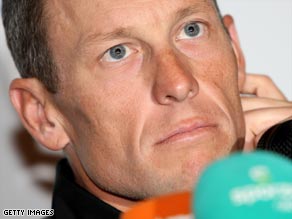 Armstrong is under the spotlight over a doping test he gave on March 17.
According to a statement issued by the AFLD, the 37-year-old American "did not meet the obligation to remain under the direct and permanent observation" of the tester, taking a 20-minute shower before giving samples of blood, urine and hair.
Armstrong, who was training in the South of France on March 17 when the alleged breach of the rules took place, has denied any wrongdoing and insisted he merely asked for the identity of the tester to be established.
"I had never heard of labs or governments doing drug testing and I had no idea who this guy was or whether he was telling the truth," he said in a statement released on the official Web site of his Astana team.

Watch more about the allegations »
"We asked the tester for evidence of his authority. We looked at his papers but they were far from clear or impressive and we still had significant questions about who he was or for whom he worked."
Armstrong said he and his team manager Johan Bruyneel and two other people were there when the doping official turned up.
"We told the tester we wanted to check with the UCI to confirm who he was and to make sure he wasn't just some French guy with a backpack and some equipment to take my blood and urine."
The tests subsequently proved negative and Armstrong, who returned to the saddle to bid for an eighth Tour de France title, pulled no punches in his opinion of the French authorities.
"I find it amazing that I've been tested 24 times without incident and the first test I do in France results in more outrageous allegations and negative leaks to the press," he added.
Don't Miss
Armstrong, who has returned to competitive cycling after a three and a half year layoff, has been dogged by allegations of doping despite never failing a test.
He gave vent to his frustrations on his Twitter blow on the day of the March 17 test.
"So I'm clear -- never complaining about these tests. Def part of the job. Feel targeted? Of course. But anything to prove I'm clean," he wrote.

But the latest row could derail his chances of lining up in the Tour in July with an spokesman for AFLD telling CNN that the matter was under investigation.
Armstrong is also battling to be fully fit after breaking his collarbone in a race in Spain, recuperating in the United States ahead of a scheduled appearance in the Giro d'Italia next month.
E-mail to a friend