(CNN) -- Olympic champion Sammy Wanjiru of Kenya improved on last year's second place to win the London Marathon in a course record and personal best time of two hours, five minutes and 10 seconds after a crazily fast start aimed at breaking Haile Gebrselassie's world record.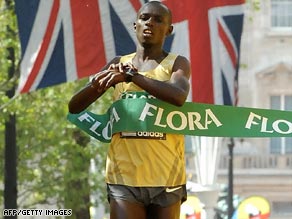 Wanjiru crosses the line in a personal best time to add the London Marathon title to his Olympic victory.
Wanjiru finished 10 seconds ahead of Tsegay Kebede, the Ethiopian who finished third in Beijing, with Beijing silver medallist Jaouad Gharib third.
Wanjiru, 22, was always a comfortable distance ahead of Kebede, but admitted it was not until the line was in sight that he felt assured of victory.
"It was a very tough field but it wasn't until the final 150m I felt I would win," Wanjiru told reporters. "It's fabulous to have broken the course record, but my main aim was always to win."
Wanjiru was among the leading pack who reached the halfway point of the race in the fastest time ever recorded at that stage of a marathon -- as a new world record bid was attempted.
Don't Miss
Not surprisingly given the punishing pace, it dramatically slowed until Wanjiru made the first of several surges after 19 miles, with Kebede still tracking him.
Defending champion Martin Lel, who had been eyeing a third successive victory in the race, failed to make the starting line-up because of a hip injury.
Meanwhile, Germany's Irina Mikitenko retained her women's title with a comfortable victory in a time of two hours, 22 minutes, 11 seconds.
Mikitenko put in two massive kicks with six miles remaining to finish clear of Briton Mara Yamauchi, who finished second in a personal best time. Russian debutant Liliya Shobukhova came home in third place.
Mikitenko's victory means she becomes the first woman to defend her title since Paula Radcliffe achieved the feat in 2003 with the second of her three victories.
"I was always confident that I had it in my legs as everything in myself felt good and after 19 miles I saw no reason why I shouldn't win," said Mikitenko, after scoring her third success in four 'big city' marathons.
E-mail to a friend