(CNN) -- Nigeria striker Nwankwo Kanu has exclusively told CNN that he believes an African side can win the World Cup when the tournament is hosted by the continent in 2010.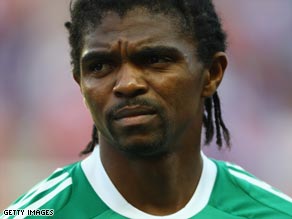 Super Eagle Nwankwo Kanu believes 2010 will be a big year for Africa.
The Super Eagle forward, who has already played in two previous World Cup for his country told Pedro Pinto, in an interview for African Voices the event in South Africa will be special.
"It means a lot because I've been there already, but the thing with Africa is whenever any country (from the continent) is playing, the other countries are supporting it, which is very very massive and very very good for the region," said the goal getter, who turns out for English Premier League side Portsmouth.
"Right now, this I believe, this is the time we can really make an impact in the World Cup. When I say an impact, either winning the World Cup or being in the finals. And one of the African countries I feel can do that."
Don't Miss
Pele famously said he thought an African side would win the biggest prize in international football by the turn of the century. A decade later, the task has proved harder than the legendary Brazilian anticipated, a factor that is recognized by Kanu.
"It takes a lot. Any country that is well organized in terms of their preparation, in terms of their coaching, crew, their staff, well organized from the FA board of it, the football association side. Coming to the players and preparing on time, and make sure they are really focused for it, but we can definitely we achieve it."
Africa has proved a world-beating exporter of talent to the major leagues around the world in recent times, with players like Didier Drogba, Samuel Eto'o and Kolo Toure becoming superstars of the game.
The experience found at some of the biggest clubs in the world has helped the development of African football: "I believe the more you come to Europe, it makes you a better player and it gives them an advantage because the African style is different from the European style.
"I believe we have learned our lesson, and playing in Africa where you have all the supporters behind you, I think this is the time to really do it," the 32-year-old added.
E-mail to a friend