(CNN) -- Manchester United have confirmed that on-loan Argentine international striker Carlos Tevez is to leave the English Premier League champions.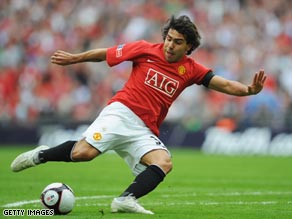 Fans favorite Tevez is leaving Manchester United after a successful two seasons with the club.
United chief executive David Gill had been in discussions with Tevez's advisor Kia Joorabchian, with the aim of keeping the forward at Old Trafford.
But, despite the offer of a lucrative five-year contract that would have made Tevez one of the highest paid players at the club, the South American has decided to leave.
"Following contact received from Carlos Tevez's advisors on Friday night, in advance of the deadline the club set for concluding negotiations, Manchester United announce that Carlos will not be signing a new contract with the club," said a statement released by United on Saturday.
"The club agreed to pay the option price of £25.5 million ($42m) and offered Carlos a five year contract which would have made him one of our highest-paid players at the club.
"Disappointingly however, his advisors informed the club that, despite the success he has enjoyed during one of the club's most successful periods, he does not wish to continue playing for Manchester United.
"The club would like to thank Carlos for his services over the last two seasons and wishes him good luck for the future."
But Joorabchian, talking to TalkSport radio, had a different take on what actually happened, insisting the decision to reject a five-year deal at Old Trafford was not down to money so much as the fact United left it so late to put an offer on the table.
"Carlos was very much a part of the Manchester United team the last two years but clearly the last year he's been very disappointed," said Joorabchian.
Don't Miss
"He has a feeling that maybe he wasn't the most wanted person at United. Rightly or wrongly, that's how he feels. I personally think United made a fantastic contribution to try to secure him with a last-ditch offer but I think it was a little bit too late and there wasn't enough time for Carlos to think about it."
Joorabchian admitted his client would be leaving Old Trafford with a heavy heart. "I think Carlos is not happy, he's a little bit sad," he added. "He's had two years at the club, two great years. They've won two Premier League titles, one Champions League title, one Carling Cup in his time and he's quite sad.
"United's offer was a very good one. It came about 10 days ago but Carlos needed time. I want to make it very, very clear that we never, at any time, asked them for more money."
The news will be greeted with dismay by United supporters, who had warmed to Tevez's all-action style during his two-year 'loan' spell that included successive Premier League titles and the Champions League in 2008.
They had hoped some of the $130 million about to be pocketed from Real Madrid for the sale of Cristiano Ronaldo would be used to keep Tevez, who also impressed during a season with West Ham.
However, after declaring earlier this season he was deeply unhappy at a perceived lack of match action -- even though he made more appearances than either striking rivals Wayne Rooney or Dimitar Berbatov -- it was always likely the South American would move on.
Tevez is certainly not short of options, with new Chelsea manager Carlo Ancelotti keen to lure the former Boca Juniors star to Stamford Bridge.
However, United's rivals Manchester City are the favorites to confirm Tevez's capture, having made agent Joorabchian an offer said to be well in excess of United's.
City are reportedly also on the verge of confirming Paraguayan Roque Santa Cruz's immenent $30 million arrival from Blackburn, which would give them an impressive new strike-force for next season.
Joorabchian added: "Without getting into the point of whether he's going to City or Chelsea or wherever, the issue is that I think Carlos wants to go to a club which has real ambition, a club which is showing intent, a club which he can help achieve great things.
"City have shown a lot of ambition with the players they've bought in the last year or so, and Chelsea are also showing a lot of ambition -- they want to win the Champions League. Both have that ambition.
"What is important is Carlos is very happy in England. He is extremely settled down, his family is in very good shape here, they love the country. He wants to stay here."
E-mail to a friend