(CNN) -- Lewis Hamilton's recent resurgence continued on his favorite track as the reigning world champion topped practice ahead of the Belgian Grand Prix at Spa on Sunday.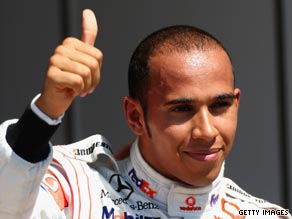 Lewis Hamilton continued his recent resurgence by topping the timesheets for Sunday's Belgium Grand Prix.
After the first session was disrupted by rain that fell steadily for an hour, the black clouds lifted for a dry run in the afternoon.
With virtually every driver running for around 30 laps, the lead changed hands several times during the 90 minutes before Hamilton emerged in front.
After his victory in Hungary and second on Sunday in Valencia at the European Grand Prix, the 24-year-old is poised for a podium finish for a third successive race.
Hamilton topped the timesheets in his McLaren with a lap of one minute 47.201 seconds around the renowned 4.5-mile Spa circuit.
The unpredictability of the track resulted in the top-six places being filled by drivers from six different teams. Toyota's Timo Glock was a surprising second quickest given his team's woes of late, just 0.016 seconds behind Hamilton, with Kimi Raikkonen third in his Ferrari, a mere 0.084 seconds adrift.
The Finn, though, did finish the session by being helped off the track by marshals after running onto the grass at the right-hand Fagnes turn.
Don't Miss
Red Bull's Mark Webber, Renault rookie Romain Grosjean and Force India's Giancarlo Fisichella completed the top six, followed by the second Toyota of Jarno Trulli.
Sebastian Vettel, who sat out the first session to preserve engines after blowing two Renault powerplants in Valencia, finished 10th, completing 25 laps.
Of possible concern to Brawn GP is their duo of championship leader Jenson Button and team-mate Rubens Barrichello trailed 17th and 18th, both just under a second behind Hamilton.
Brawn had expressed confidence earlier this week that they had cracked the tire issues that had affected their running in cooler climes.
But if the evidence of Friday is anything to go by, it would appear that is far from the case, unless the duo were sandbagging.
Veteran Ferrari driver Luca Badoer finished two seconds behind Hamilton in his Ferrari to finish last in practice. The 38-year-old, knowing he must show significant improvement on his calamitous display in Valencia, even stopped the session early on.
However, it was hardly of his own doing as his car lost its left-front wheel fairing, depositing it on the racing line, forcing race director Charlie Whiting to halt proceedings temporarily whilst it was retrieved.
In the morning, the unpredicatable nature of the Ardennes region took hold as sunshine had been forecast, only for the rain to render the first session virtually irrelevant. It was underlined by the fact eight seconds separated 10th-placed Badoer from Fisichella.
That was a clear indicator of those who had taken to the track when it was dry early on, and those who had clocked a time in the wet.
For the record, Trulli finished top with a time of 1:49.67, followed by Button and Fernando Alonso in his Renault. Like Vettel, Hamilton was the only other driver not to post a time, primarily putting his feet up other than for four installation laps.
E-mail to a friend