(CNN) -- Argentina are set to get more competitive rugby matches after it was confirmed they will join an expanded Tri-Nations series from 2012.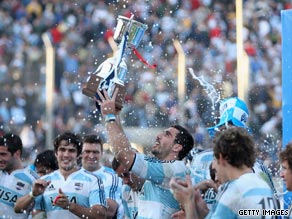 Argentina are set to join an expanded Tri-Nations tournament which is scheduled to start in 2012.
The International Rugby Board (IRB) have made a commitment to Argentina to provide them with more international fixtures to help fully integrate the Puma's into the international playing calendar.
It is proposed that Argentina, bronze medalists at the 2007 World Cup, will join Australia, New Zealand and South Africa to create a new Four-Nation tournament.
The proposed format will see the four teams playing on a home and away basis meaning six matches per team and 12 matches overall.
The tournament would be played from mid-August for an eight or nine week period through until early to mid-October. In a Rugby World Cup year an abbreviated format would be played through July and August.
Don't Miss
Former Argentina captain Agustin Pichot admitted the decision well help to provide the impetus for participation growth within Argentina.
"I can't express the joy of what this means for me and the whole team at the Union Argentina de Rugby who have been working on this important project," he told the IRB official Web site.
"We are delighted to now get the chance to become a great Rugby nation with the chance to play top level international Rugby on an annual basis.
"This exciting development will be vital to growing the Game across Argentina and South America. This is a historic moment and everyone in Argentina should be proud."
IRB chairman Bernard Lapasset also welcomed the decision by Tri-Nations governing body SANZAR to invite Argentina to take part.
"The IRB welcomes the news that Argentina are invited to join a new Four Nations from 2012. A key priority was finding a solution that would lead to Argentina's integration into an annual tournament structure.
"We will work with all stakeholders to try to ensure that appropriate conditions of invitation are met, including the participation of Argentina's top players and the implementation of a sound and sustainable financial model," he added.
E-mail to a friend

All About Rugby • South Africa • New Zealand