(CNN) -- Kim Clijsters exclusively told CNN she is happy to provide an inspiration to working mothers everywhere after she sensationally won the U.S. Open women's singles title despite only coming out of retirement last month.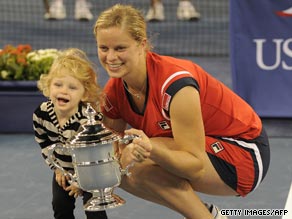 Kim Clijsters allows daughter Jada to get her hands on the U.S. Open singles trophy.
The 26-year-old married and gave birth to daughter Jada during her two-year retirement from the game, before making a sensational comeback to competitive tennis.
Unseeded Clijsters, who had knocked out defending champion in Serena Williams in the semifinal, defeated ninth seed Caroline Wozniacki 7-5, 6-3 at the Arthur Ashe Stadium in New York to complete a remarkable return.
And the Belgian admitted she is pleased to fly the flag for mothers who want to combine their careers with managing a family
"It wasn't something I was planning on doing but obviously I have done well and obviously it is a great feeling to have," Clijsters told CNN. "I hope that I can inspire a lot of other women who are willing, or hoping, to do the same thing but maybe don't know the way to start or are insecure about starting.
"I really believe anything is possible but it is a family affair. I also need help from family and people around me but it's a great feeling to know that I can combine the sport that I love but also be a mum as well."
Don't Miss
Clijsters' route to the final had been eventful having knocked out Venus Williams in a last-16 tie before a controversial clash with defending champion Serena in the semifinal in which her opponent had a heated exchange with a line judge.
And despite her two-year hiatus she still possessed all the key attributes to recapture the title which she first won in 2005 when she defeated Mary Pierce in straight sets.
Despite her success the new champion was uncertain her comeback would be as spectacular prior to the tournament.
"I definitely thought I might never play another tennis match again after retiring. It was only at the start of this year when I got invited to play under the new roof at Wimbledon when I started to get back into training," Clijsters explained.
"During those two years off I maybe hit the ball two or three times and a few practice sessions with my friends -- in fact it wasn't even practice it was just fooling around.
"So to be in that position to decide that I wanted to do more than plan exhibition matches was a big decision to have to be made but right now it definitely feels like the best decision to make.
"I am glad I made the decision to come back and defend it because I always had a bad feeling about the fact that I didn't come back and defend the only grand slam I won so to come back is very special. But to win it is very surreal

"Each match you play is going to be tough but I had a good feeling obviously beating some good players so the confidence was there which is very important in a grand slam.
"As I progressed throughout the tournament I felt that the confidence kept growing and I was glad not only to beat Venus and Serena but to play some really good tennis in those matches and that is something that really helped me to stay focused in that final."
E-mail to a friend

All About U.S. Open - Tennis • Serena Williams • Kim Clijsters • Caroline Wozniacki