(CNN) -- Prize money for golf's richest tournament in Dubai has been cut by 25 percent because of the global economic downturn.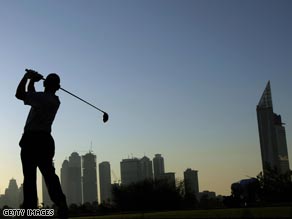 The Race to Dubai has been hit by the global financial downturn.
CNN reported last month that the pay out at the Dubai World Championship in November would be massively reduced and on Monday the European Tour confirmed the revised cash rewards.
The original prize pool offered $10 million for the November 19-22 tournament with a further £10 million in a bonus pool for the leading finishers on the European Tour.
This has now been revised to $7.5 million for each category, a total of $15 million.
The winner of the tournament will receive $1.25 million, less than the $1.35 check received by the winner of the PGA Tour Championship at Atlanta later this week.
The first prize for the season-long bonus pool, which replaced the former European Order of Merit, will be $1.5 million.
"The European Tour has offered to reduce the prize money to reflect the current worldwide economic position," European Tour chief executive George O'Grady said in a statement on its official Web site www.europeantour.com
"We will jointly examine prize money levels in future years in the light of this developing global situation."
Don't Miss
O'Grady said that the Earth course at Jumeirah Golf Estates, which is hosting the flagship event, was nearing readiness.
"We have been assured that our agreement is proceeding substantially as planned," he added.
The Race to Dubai -- a season-long competition for leading golfers who are members of the European Tour -- will decide the top 60 players to go forward to the final event.
Germany's Martin Kaymer currently leads the standings from England's Paul Casey and Northern Ireland's Rory McIlroy in third leading into the final eight counting tournaments.
A golf insider from the region told CNN that the impact of the credit crunch on Leisurecorp, the company behind the concept, and the fact the Dubai World Championship has not attracted the handful of marquee sponsors hoped for, has led to a decision to make drastic cuts.
Leisurecorp, now under the control of Dubai real estate developer Nakheel, ran into problems at the start of the year, making many staff redundant.

The flagship Jumeirah Golf Estates development is also on hold and its CEO David Spencer, the brains behind the "Race To Dubai" concept, has left the company.
Dubai's financial struggles have affected many golf business such as the Tiger Woods course where construction has been put on hold and is now believed to be up for sale.
E-mail to a friend