Barrichello switches to Williams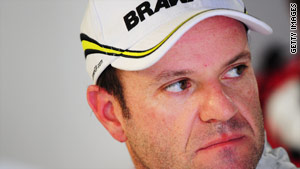 Barrichello leaves Brawn on a high note after finishing third in the championship.
STORY HIGHLIGHTS
Rubens Barrichello to drive for Williams F1 team next season
Veteran Brazilian is leaving constructors' champions Brawn GP
Nico Hulkenberg will partner Barrichello at Williams in 2010
Tire supplier Bridgestone to pull out of Formula One at end of next season
(CNN) -- Brazilian Rubens Barrichello will drive for Williams next season after switching from this year's constructors' champions Brawn GP.
The 37-year-old veteran will form a new driver partnership with promising young German Nico Hulkenberg at the English-based team for the 2010 season.
Hulkenberg, 22, has been the team's test driver in 2009.
They replace German Nico Rosberg and Kazuki Nakajima of Japan, who are leaving after a disappointing 2009 season which has seen Williams finish a lowly seventh in the constructors' standings.
Team principal Frank Williams told the team's offficial Web site www.williamsF1.com that he was delighted with his new signings.
"Rubens needs no introduction. He is not only the most experienced driver in Formula One, but a passionate and talented driver who fought hard for the drivers' championship this year," he said.
"Nico Hulkenberg won the GP2 Championship this season as a rookie and has previously won the F3 Euroseries, Formula Masters, A1 GP and Formula BMW Germany."
Rubens needs no introduction. He is not only the most experienced driver in Formula One, but a passionate and talented driver
--Frank Williams
Barrichello and new world champion Jenson Button dominated the early part of this year's title race with Brawn.
Button won six of the first seven races, but Barrichello hit back to claim the 10th and 11th grand prix wins of his career in Valencia and Monza to boost his own championship hopes.
A puncture in his home race in Brazil saw Barrichello's title hopes ended and he eventually finished third in the standings after Sebastien Vettel claimed this weekend's inaugural Abu Dhabi GP.
He has made a record 284 starts and is set to break the magic 300 barrier next season with Williams.
Brawn have yet to confirm their 2010 driver line-up with new champion Button set to be rewarded with an improved contract and reports linking Rosberg to a switch after his Williams departure.
In other motorsport news, tire manufacturer Bridgestone announced Monday that it will pull out of Formula One at the end of next season.
Bridgestone becomes the latest Japanese corporation to quit high-end motorsport, with Honda's withdrawal from F1 at the end of last season setting the trend.
In a statement on its Web site, Bridgestone said it was "focused on the need to redirect its resources towards the further intensive development of those innovative technologies and strategic products which support the company's goals."
Bridgestone's main rivals Goodyear and Michelin withdrew from their Formula One activities in earlier seasons, leaving them as the exclusive suppliers in the sport.