By Stephanie Busari
CNN






LONDON, England (CNN) -- It's the phenomenally popular virtual football game that has been accused of taking over players' lives -- even reportedly wrecking relationships and careers.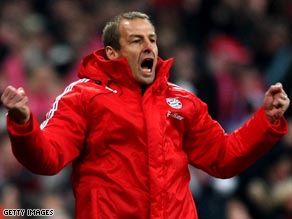 "Football Manager" puts you in the shoes of coaches like Bayern Munich's Jurgen Klinsmann.
The simple premise behind "Football Manager" is to give armchair fans a chance to play real-life managers at their own game.
Gamers can choose any football club in the world, take their pick of the world's best players for their fantasy teams and play against other teams on the Internet.
They can upgrade the club's playing facilities and even hold news conferences.
It's such an all-consuming affair that some fans have become obsessed with taking their team to the top. Forums online hint at a phenomenally deep bond between player and game.
Blogger Hound writes about feeding his "addiction" in "marathon playing sessions" where, "I ignored the women in my life, the shower has become a strange world not very often visited and the toilet is a hideous inconvenience."
Another one writes about repeatedly taking days off work just to get his team to the next level. Not surprisingly, he eventually got the sack.
"Football Manager" is rumored to have been cited in divorce cases since it came into being in 2004. One woman even wrote to the agony aunt column of a well-known woman's magazine lamenting the loss of her boyfriend to the game. Wives and girlfriends are jokingly known on forums as "Football Manager Widows."
Football Fanzone
Football fans, the chance to have YOUR say on CNN is here!


Football fanatic Nick McGrath, from London, readily admits that the game, formerly known as "Championship Manager," and still often referred to as "Champ Man" by devotees, became an obsession for him.
"I'll freely admit that it cost me better exam results when I was younger," the 23-year-old told CNN.
"And it's well-known among those who play 'Champ Man' that it's a bit of a relationship-wrecker. You're always thinking about the next game or a player you want to sign, even when you're not playing it.
"But I see it as a cheap night in, no different from hiring a movie," he added.
Nick has now quit playing the game after taking English premiership side Chelsea into the 2014-15 season.
"It was such a massive undertaking to get that far that I couldn't face doing it again," he said.
Are you hooked on Football Manager? Has your relationship ended because of the game? Let us know
An article written by a game disciple appeared in "The Observer" newspaper in October 2008, headlined: "The bedroom Mourinho: Championship Manager ruined my life."
In it, the author describes the initial euphoria. "I was becoming entranced by the buzz, the confidence," he wrote. "As soon as I sat down at my computer it felt like all of my real-world troubles melted away."
The writer eventually made the decision to stop playing after staying up all night one too many times.
Don't Miss
Perhaps one reason why the game attracts such compulsive behavior is because it is so obsessively researched: it provides the user with an astonishing depth of stats and facts.
The game's creators, Sports Interactive (SI), employ 1,500 researchers around the world, including a scout at every club in Britain in the top four leagues, to compile data on the 380,000 players and staff listed in its database, so that players can manage something based on reality.
This meticulous research means the game was eerily accurate in predicting the rise of Manchester United striker Wayne Rooney and Barcelona star Lionel Messi -- highly rated young players on Football Manager.
Not surprisingly, real life football managers are fans of the game. In November last year Everton FC signed a deal with SI that gave the club exclusive access to the full database, to help manager David Moyes sign his next big star.
The man behind "Football Manager" is Miles Jacobson, who says the game taps into the "can-do-better" psyche of most football fans.
"Anyone who's into football -- male or female -- probably thinks they can do a better job than the manager of their club and we give them the chance to find out," Jacobson told CNN.
However, he rejects the notion that "Football Manager" should carry a health warning. Jacobson also denies players can get hooked on it.
"The game is not addictive and 'addictive' is an incredibly strong word, which tends to be used for things that are physically addictive.
"We're purely making an entertainment product," he said. "People who play the game a lot play it because they really enjoy it -- "Football Manager" is a good escape for people."
"I think everyone should enjoy the game responsibly, as they should enjoy everything responsibly," he added.
But Paula Hall, an accredited sexual and relationship psychotherapist, thinks that the way computer games are made lends them to getting players hooked.
"It's so easy to get absorbed into them," she told CNN. "Games have been designed to do that. They're a great distraction and a way to unwind after a busy day and that can certainly feel a lot more tempting than spending time with a partner.
"And there's no time limit on them -- it's not like a fantastic TV documentary or film you know is going to end in an hour and a half's time."
She added: "It's about setting priorities and boundaries. You've got to agree as a couple how much time playing games is OK and when is OK. It boils down to negotiation."
E-mail to a friend

Neale Graham contributed to this article
All About Football • Lionel Messi • Wayne Rooney