(CNN) -- Manchester United's manager Alex Ferguson was in confident mood ahead of the second leg of the Champions League semifinal against English rivals Arsenal.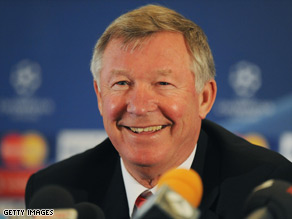 Alex Ferguson in upbeat mood ahead of Manchester UNited's semifinal against Arsenal
The 67-year-old's side have a single-goal advantage from the first leg, after John O'Shea's Old Trafford winner, and Ferguson feels this advantage could prove vital.
"We've got a lead and that means we're only one kick away from the (final) in Rome, so it's a big incentive for us," he said.
The away-goals' rule in European competition means if United score Arsenal would have to net three times without conceding to progress, a factor that may affect Ferguson's tactics.

Semifinal preview in full »
"We have to go there with the intent to score, to have that threat. We have the ability to score and that would put us in a very strong position.
"But it's still a very close game so you can't call it - two terrific sides means it should be an engrossing game."
Despite the instinct to attack Ferguson reiterated the importance of a stout defense for success.
"(We defended well against) Porto, we need the same performance again. It's a great credit to our back four that when they are ready for the big games that are normally very good."
Arsenal have not lost at home for five years in the Champions League and manager Arsene Wenger feels such form will stand his side in good stead as they welcome the current title holders.
"I am very confident the team will produce a magnificent performance," the Frenchman said.
"We're playing at home where we have a great record in the European Cup. Many believe we are outsiders but I believe we will do it."

Manchester United are aiming to become the first English side since Nottingham Forest to successfully defend the European title and the first ever since the competition has been in its current format.
Barcelona travel to London to take on Chelsea on Wednesday to play the second-leg of the other semifinal with neither team having scored in the first clash.
E-mail to a friend