(CNN) -- Chelsea will learn in the "course of the next week" what action will be taken against the Premier League club and individual players after their fiery Champions League exit to Barcelona on Wednesday.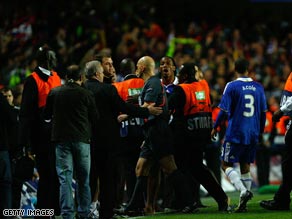 Didier Drogba confronts referee Tom Henning after Chelsea's dramatic Champions League exit.
Didier Drogba and Michael Ballack are facing possible sanction for confronting referee Tom Henning Ovrebo over his decision to turn down several penalty appeals.
Chelsea captain John Terry also remonstrated with the Norwegian while manager Guus Hiddink and defender Jose Boswinga were highly critical of the referee's performance in post match interviews.
"UEFA is currently examining those reports, as well as gathering additional evidence. It will decide which action to take in the course of next week," said a statement on the official Web site of European football's governing body.
UEFA also confirmed they had not received an official protest against the red card shown to Barcelona defender Eric Abidal.
Hiddink told Sky Sports News on Friday that he would not be punishing Drogba and made a plea for leniency from UEFA.
"I think you have to take into consideration the emotion of the injustice that was felt," Hiddink said.
"If they take measures it is up to them, but when people apologize for their behavior it is the first step made toward the normal things of life.
"I don't regret so easily something, but at that moment I said I could feel the reaction of the players when there is injustice. When you don't lose in a normal way we are sad."
Bad decisions or bad losers? - join the debate
Barcelona, down to 10 men after Abidal was sent off in the second half, rode their luck to score a dramatic injury-time equalizer at Stamford Bridge.
Michael Essien had put Chelsea ahead on the night and on aggregate after the goalless first leg, but Andres Iniesta struck late for Barca who went through on the away goals rule.
Chelsea had their final penalty appeal turned down in a frenetic finale and after Henning Ovrebo blew his final whistle there were angry scenes with Ballack and Drogba in particular incensed by his decisions.
Ivory Coast star Drogba, who felt he should have had a first half penalty after going down in the penalty area, was seen to mouth an obscenity on the live coverage and received an yellow card.
CNN's Pedro Pinto: "Barcelona deserved to win" - do you agree?
UEFA general secretary David Taylor publicly voiced his disappointment with the behavior of the Chelsea players.
"When we get to the top level we expect better in terms of players' behavior," he told The Guardian.
"Refereeing is an extremely difficult job. All I would ask is a bit more respect is shown towards officials.
"Notwithstanding the high emotions, high drama, high stakes involved, these guys are out there in the middle having to make decisions just like that, on the spot.
Drogba, who has come in for particular criticism, did offer an apology ahead of likely sanction by UEFA.
"I was very upset at what happened during the game, but having seen the pictures on TV, I accept that I over-reacted," he told the official Chelsea Web site.
"I also accept that the language I used did not set a good example for those watching at home, especially children.
"I regret that in the heat of the moment I let out my incredible frustration and disappointment in this way, and for that I apologize."
Meanwhile, referee Henning Obrevo returned to Norway under police escort and has reportedly gone into hiding.

Spanish league leaders Barcelona will now play title holders Manchester United in the final of Europe's premier club competition in Rome on May 27.
Defeat was a bitter pill for Chelsea, who lost to United in a dramatic penalty shootout in last year's Champions League final in Moscow.
E-mail to a friend