(CNN) -- Didier Drogba has been handed a four-game ban from European club competition for his antics after Chelsea's Champions League semifinal defeat to Barcelona last month.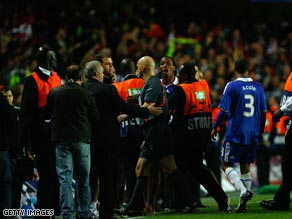 Didier Drogba confronts referee Tom Henning Ovrebo after Chelsea's semifinal exit.
Drogba angrily confronted Danish referee Tom Henning Ovrebo after the May 6 match at Stamford Bridge ended in a 1-1 draw, which put eventual winners Barcelona through to the final against Manchester United on away goals.
The Ivory Coast striker was angered by Ovrebo's failure to award a penalty to the home side despite a series of strong appeals.
UEFA's disciplinary panel also gave him a further two-game ban, suspended for two years, depending on his future behaviour.
Andres Iniesta scored Barcelona's crucial equalizer in the final moments of the match and as soon as Ovrebo blew his whistle he was surrounded by Chelsea players.
Defender Jose Boswinga was also punished with a four-game ban, with one deferred, after he gave a controversial post-match television interview in which he made disparaging comments about Ovrebo, comparing him to a "thief."
Chelsea were also fined $138,400 for the improper conduct of their players.
The club and players have three days in which to appeal the decision by European football's governing body.
There were calls for Drogba, who was seen in the media as the main culprit in the unsavory scenes, to face a longer ban.

Premier League Chelsea responded to the punishments by issuing a statement: "Chelsea Football Club is considering our response to the UEFA punishment that sees Didier Drogba and Jose Bosingwa suspended for European games and the club fined," it read.
Referee Obrevo returned to Norway under police escort after the match but has since returned to action.
E-mail to a friend