(CNN) -- Roque Santa Cruz became big-spending Manchester City's second signing of the summer transfer window as he completed a reported $30 million move from Premier League rivals Blackburn.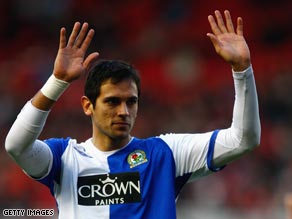 Santa Cruz was a prolific scorer for Blackburn during his first season at Ewood Park.
The Paraguay international striker is re-united with his old Blackburn boss Mark Hughes, who is now in charge at Eastlands.
Santa Cruz joins England international midfielder Gareth Barry, who moved from Aston Villa at the beginning of the window.
City, who failed in an audacious bid to sign former World Player of the Year Kaka from AC Milan earlier this year, were short of firepower last season despite the improvement shown by Felipe Caicedo.
They relied heavily on the goals of record signing Robinho, but the Brazilian has been consistently linked with a move to Barcelona in recent weeks.
Hughes signed the 27-year-old Santa Cruz from Bayern Munich during his Blackburn reign and was rewarded with 23 goals in 43 games in his first season at Ewood Park.
Santa Cruz managed only four Premier League goals last season, but was troubled by a knee injury for much of the campaign.
He is expected to clock up a third World Cup finals campaign with Paraguay next summer, but will be hoping to find the form he displayed in his first Premier League campaign for ambitious City who are backed by Abu-Dhabi money.
E-mail to a friend