(CNN) -- Inter Milan have given up on signing Chelsea's Portuguese pair Ricardo Carvalho and Deco for the time being.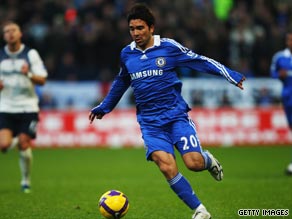 Chelsea's Portuguese midfielder Deco has been strongly linked with a summer transfer to Inter Milan.
The duo had been linked with a move to the San Siro where they would link-up again with former Chelsea and Porto coach Jose Mourinho.
Reports had suggested Inter sent a representative to London to talk to Chelsea about a possible deal for the two players, but the Italians' transfer consultant Lele Oriali insisted that was untrue.
Oriali told Sky Italia: "Inter don't need emissaries, the president didn't send anyone and neither did I.
Don't Miss

"Having had the fortune of being able to speak directly with Chelsea, we know that they are ready to negotiate over these two players, but the asking price is too high.
"The deal is not as simple as it might seem. It's unrealistic for us in the current conditions. At the moment the deal is closed, and we don't know if it will open up again later on."
E-mail to a friend