(CNN) -- Liverpool manager Rafael Benitez has hit out over 'crazy' transfer deals which are pricing his side out of the market.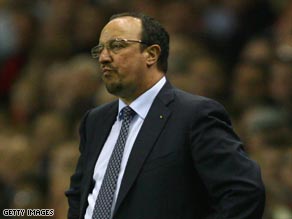 Benitez is disgruntled over the high prices being paid in the summer transfer window.
Despite finishing second in the Premier League and reaching the semifinals of the Champions League, Liverpool do not have the finances to compete with the likes of Real Madrid and Manchester City and Benitez is growing increasingly frustrated.
The Spaniard was particularly annoyed to miss out on long-term target Gareth Barry, the Aston Villa midfielder eventually opting to go to Abu Dhabi-backed Manchester City.
Debt weakens Premier League elite
Benitez did land Barry's England international full-back Glen Johnson but had to spend $24 million to secure his services from Portsmouth although a large part of the sum was wiped out by the money still owed to the Anfield club by Pompey.
"We had to pay big money, the market is now crazy. It is all money, money, money now. But we were signing a good player, an England player, and that is very positive," he told Press Association.
Don't Miss
"Things have changed. You have to adapt to a situation. Manchester City and big clubs in Europe are spending big money, so the market has changed and we have to work harder.
"You have to do that to stay at the level we are at because of the big money being spent here and abroad."
Manchester City were also interested in Johnson, but Benitez was determined not to miss out on another transfer target.
"We did go back again for Barry, but as I said. it is all about money, money, money. It is as simple as that," he added.
Benitez may be frustrated over the transfer market, but he has been able to secure the services of club captain Steven Gerrard, who has signed a new deal which ties him to Liverpool until 2013.
"It is really good," he said.
"The message has to be the same again this year -- to be there, to be contenders and to fight. If we can win trophies it would be fantastic."
Gerrard joins Dirk Kuyt, Fernando Torres, Yossi Benayoun and Daniel Agger in signing new contracts as the Merseyside giants look to go one better in the English title race next season.
E-mail to a friend